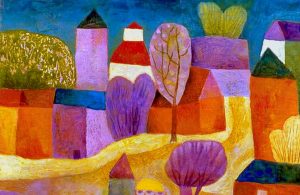 YOSHIRO TACHIBANA 1/3 – Born in Sanda (Kobe) as a son of painter, he was taught to paint by his father, interested in Cezanne and Rouault. http://www.yoshirotachibana.com/ In1962 he went to study at the School of Arts in Tokyo. In1971, he left Japan and traveled to Germany, where he showed interest in the contemporary German painters. In 1973, he arrived to Norway, where he attended drawing classes at the School of Architecture, drawing lots of Nordic landscapes. In 1974, he returned to Spain and decided to settle in a small fishing port called Muxía.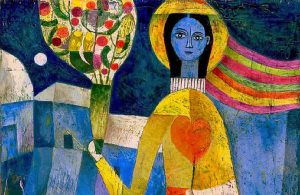 YOSHIRO TACHIBANA 2/3 – His painting survive as a necessary memory, as a permanent imprint, of interpreted life from the mystique and lightness of the human being. According to him, it is never too late to have childhood. But the second only depends on you. https://www.youtube.com/watch?v=uywdZ9lr064 He is interested in mystical themes and he likes to learn buddhist mandala. His paintings are vivid, exquisite and colorful.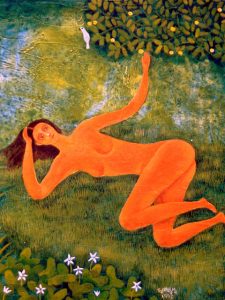 YOSHIRO TACHIBANA 3/3 – What he was trying to do, was to give happiness to people. He brought out the best of himself and painted it with luminous shapes and colors. For him, who ignored the word death, was free. His depictions of the recurrent theme of the forbidden tree and lost paradise, with their high color are a pure harmony and order. In his artistic trajectory he created more than 800 works, distributed all over the world. He died in Muxia, where he resided, on July 17, 2016. He devoted his life to unlearning to paint as an adult, to paint as a child.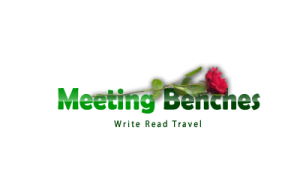 To pursue this issue, you can digit: http://meetingbenches.com/2017/03/yoshiro-tachibana-19412016-naif-japanese-painter-eccentric-now-not-wait-old/
The intellectual property of the images that appear in this blog correspond to their authors. The sole purpose of this site is to spread the knowledge of these painters and that other people enjoy their works.