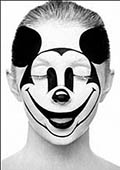 VALERIYA KUTSAN 1/4 – Was born in Tomsk, Siberia (Russia). Graduated from pedagogical University. Since 1996 she is make-up artist, in 1999 she became hair dresser. Since 2011 – she is an Image-designer of Bogomolov' image school. From 2007 she participated for her professional development at different countries and programs: Paris, London (School of ILLAMASQUA), Milan (Fashion Academy Fashion Up To Date), New York, Los-Angeles (internship program "LA Make Up Tour) During the time she cooperated with different creative teams (Londa, Wella, Shwarzcopf)  and events (TV programs, clubs, fashion shows, editorial publications etc.) in Russia.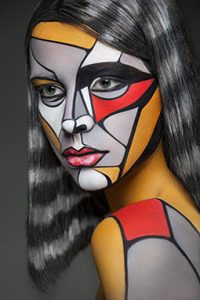 VALERIYA KUTSAN 2/4 – Throughout history, many great artists have painted models. From Da Vinci to Van Gogh, they've used brushes to try to capture the beauty of the human form. Using only black and white paint, Valeriya created stunning designs to prove that face painting is not always children's birthday parties. The images showcase both the artist's eye for a unique design and her ability to interpret various symbols. The images are a collaboration between Valeriya and photographer Alexander Khokhlov, who named this serie Weird Beauty.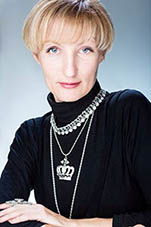 VALERIYA KUTSAN 3/4 – After receiving much attention for her black and white face-painted photography series Weird Beauty, she collaborated again with Alexander Khokhlov in her next project. They have created another unique concept, now with a lot more color. The art project is called "2D or not 2D". In this selection of amazing art works you can admire the art converted people in paintings of impressionists, pop art artists and other members of the avant-garde currents.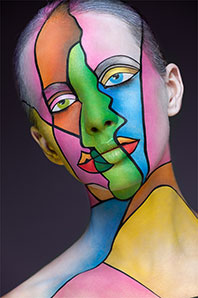 VALERIYA KUTSAN 4/4 – She is stylist, image-designer, hair-dresser, make-up artist, international class master. Already in 2005 was absolute champion of Siberian Champiohship in Stage make-up and Fantasy make-up. In 2013 she created her own brand of professional make-up brushes and accessories "Valeriya Kutsan". In 2016 opened Probeautyclass studio in Moscow. She takes part in creative, advertising and commercial filming projects. She teaches, trains and judges different levels courses, competitions, championships.
To pursue this issue, check the gallery here : http://meetingbenches.com/2017/01/valeriya-kutsan-…nt-just-for-kids/