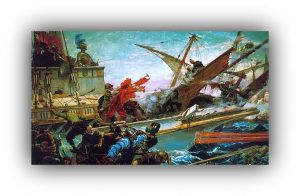 Coming into the Spanish Senate hall, you can admire a painting depicting an ancient battle, one that was fought October 7, 1571 in the Gulf of Lepanto, which is between the Peloponnese and Epirus, Greece. Ottoman Turks had fought against a Christian coalition (called Holy League, formed by the Kingdom of Spain and the Papal States, the Republic of Venice, Order of Malta, the Republic of Genoa and the Duchy of Savoy). The Christians were winners, having saved only 30 Turkish galleys. The turkish expansionism had been stopped. In this battle, he was also attended by Miguel de Cervantes, who was injured, suffering the loss of his left hand. This writer was very proud to have fought there.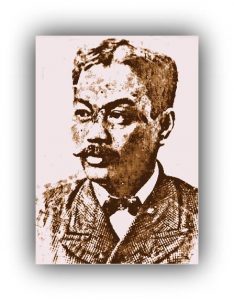 It was the Spanish Senate (through the influence of King Alfonso XII of Spain), who commissioned Luna that painting. The painting features Don Juan of Austria in battle, while at the bow of a ship. Painted in 1887, the masterpiece is about a battle of October 7, 1571. The Battle of Lepanto is a famous painting by Filipino painter Juan Luna. This painting is a portrayal of national pride, because the Spanish were instrumental in the victory at Lepanto, and it is also a portrayal of pride in the Spaniard's Catholicism, since the battle resulted in a Catholic victory. At Lepanto, a coalition of Catholics defeated the forces of Islam, who were attempting to conquer and subdue the West to force her citizens to submit to Islamic rule.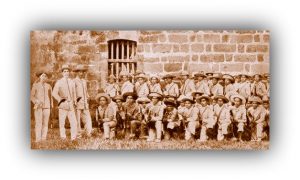 You can see shadows and strifes, catastrophes, terror, sorrows anguish, violent storms and bravery. Juan Luna y Novicio was a Filipino painter (and a political activist of the Philippine Revolution), during the late 19th century. He was one of the first recognized Philippine artists. Do not look for effeminate beauties in the works of Luna. He was not born for that, rather look for the terrible and horrifying, for water and fire. All that you can see in the magnificent paintings of Luna, is the apotheosis of the sublime, coupled with the terrible.