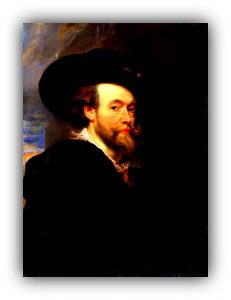 Vitruvian Man created by Leonardo da Vinci is a design, where a man in two overlapped positions (with arms and legs spread wide), is inscribed in a circle and a square. https://leonardodavinci.stanford.edu/submissions/clabaugh/history/leonardo.html Throughout the centuries, that image has become a cultural icon. Perfectly proportioned, the symmetry of the human anatomy is correlated with the symmetry of the universe. That man is you, inside your existential experience, where you breathe and see, hear, eat and feel it, also knowing something about Peter Paul Rubens.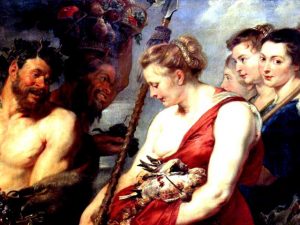 PETER PAUL RUBENS 1/3 – During his career, he became known as "the prince of painters and the painter of princes". Born in the town of Siegen (Germany), on a June day of 1577, with his family he moved to Antwerp (in the Spanish Netherlands), where he received an artistic training. In 1598, he was admitted into Antwerp's professional guild for painters. His style combined lush brushwork and Renaissance idealization of the human form with a lively sense of realism. He was one of the most famous European artists of the 17th century, and is known for such works as "The Garden of Love."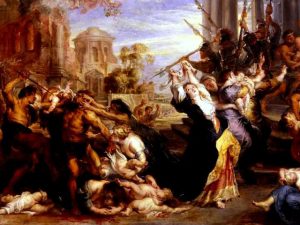 PETER PAUL RUBENS 2/3 – His style combined a lively realism with a knowledge of Renaissance classicism. His patrons included royalty and churches, and his art depicted subjects from mythology religion and history. Traveling in Italy, in 1600 he viewed the art of Titian and Tintoretto, Raphael and Michelangelo. In 1608, he married Isabella and established his own studio in Antwerp, where he received a commission to paint two large religious works for Antwerp Cathedral. His fondness for depicting curvaceous female bodies, has made the word "Rubenesque".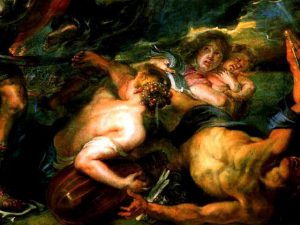 PETER PAUL RUBENS 3/3 – He traveled for several years, combining his artistic career with diplomatic visits to Spain and England, and he married his second wife, Helena. In the 1630s, he produced several of his major mythological works. He left behind numerous studio assistants (some of whom, as Anthony van Dyck, they went on to have successful artistic careers). On a May day, 1640 – at the time of his death – he was one of the most celebrated artists in Europe.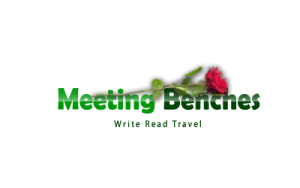 You can see more on Meeting Benches, looking for http://meetingbenches.com/2016/09/peter-paul-rubens-15771640-dutch-painter-prince-painters-painter-princes/