GEORGES SEURAT 1/4 – Even as a child he loves to paint, but will be an uncle and a sculptor men that will transform the nature of creativity. He attended the Ecole des Beaux-Arts, but it is a book – the contrast of colors – what defines his artistic horizon. For him, the lack of detail, and the immobility of the subject, amplify the content of the subject painted. He will become the synthesizer sensations – the gift of places and lights – in the manufacture colors harmoniously combined.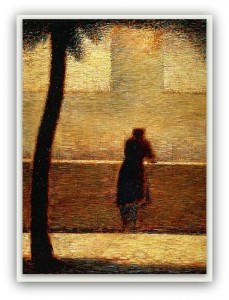 GEORGES SEURAT 2/4 – He carefully observes the paintings of Piero della Francesca, imagining reissues empirical, measuring the impact of the influence of color. "You have to observe nature through the eyes of the spirit and not only with the eyes of the body, as a being without reason." When he began to paint, he imagined a basic color white, reflections of the sun and the light absorption. Still, in the paint, he looks for two basic parts: the reproduction of true colors, and the true natural light.
GEORGES SEURAT 3/4 – In 1879, he discovered the works of the Impressionists, and they are paintings by Degas and Pissarro, Caillebotte and Cassatt, who most influenced him. Painting, he used a color wheel of 22 colors (starting from ultramarine blue), discovering complementary colors to use in the paint. It will be using the technique to dots – particularly – that he will reach the right optical mixing of colors.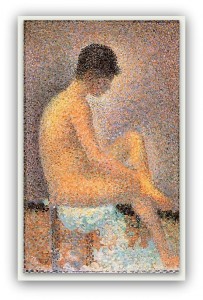 GEORGES SEURAT 4/4 – Drawing, he explores the use of light and shade, discovering the value of the shadows. Following the technique of Rood, he began painting with little touches, measuring shades also different. The impressionistic treatment of the meadows and water, let the light in his paintings. For him, a good time to start painting was in the morning, because in those hours he was the purity of light.
See more on Meeting Benches: GEORGES SEURAT (1859/1891), FRENCH PAINTER: The importance of colors and their complementary shades