From the diary-atlanteillustrato TRAVEL IN ITALY, publisher Meeting Benches (e-book format, available in Italian language and English).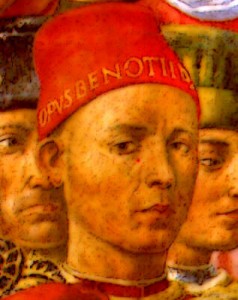 A painter of the Italian Renaissance, born in Tuscany in 1420, a pupil of Fra Angelico, has long lived in Florence, by decorating  the church of San Marco. Like many painters of that period, he also was in Rome, by decorating a chapel in the Vatican Palace. In the cathedral of Orvieto, has painted the faces of the Prophets, but what made him immortal is what I saw in Florence, in the Chapel of the Palazzo Medici: "Journey of the Magi."
That my fellow called Benozzo Gozzoli, and it was placed at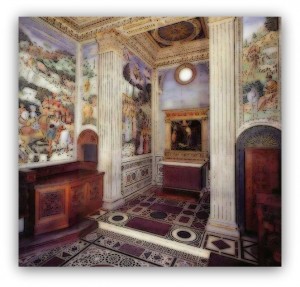 the service of the powerful of this century special, where everything seemed to be reborn. Piero de 'Medici – the most powerful man in Florence at the time – was one of his clients, but in those years where there were no newspapers and television, the ways of the power had found their way to be enlightened: through painting, architecture and poetry.

"Journey of the Magi", is certainly a splendid fresco, but not only that. What Benozzo Gozzoli left in the eyes of the visitors is the story of a colorful fairy tale, where the characters are portrayed in an imaginary journey, the pretext, of course, to capture power: on the face of men, in their clothes, in the trappings of their horses.
Benozzo Gozzoli had also been a prolific father, and two of his nine children –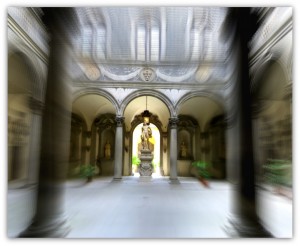 Francesco-Alessio and his father followed the artistic vocation, albeit with less luck. I had a special experience visiting the Medici Chapel, silent and evocative place where it is forbidden to film or photograph, because next to me, sitting on the steps, two little girls were drawing their special fairy tale, a text made up of colors and emotions, a gift of Benozzo and the Renaissance.
http://meetingbenches.com/book-italian-version/
[paiddownloads id="25″]
http://meetingbenches.com/e-book-english-version/
[paiddownloads id="24″]