When you have an artistic family background
From the very beginning of his life, it has been his aim to be able to express joys and sorrows through colour and line. In 1986, Kattingeri Krishna Hebbar https://www.gallery7.com/artists-work.php?id=NDQ was award the Rayotsava Award from Karnataka State (Karnataka). Leater, he was conferred the Padma Bhushan by Government of India (New Delhi). He passed away in 1996, but posthumously was exhibited in India and overseas, such as in the 1999 "K.K. Hebbar – In Remembrance" at Fine Art Company, in Mumbai. In 2012, he was exhibit at National Gallery of Modern Art, Bangalore, New Delhi and Mumbai, with a retrospective.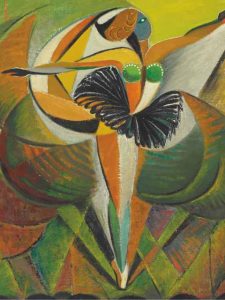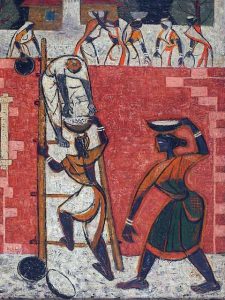 By crying or joy by laughter: his aim was also to be able to express as freely as a child expresses. In 1938, Kattingeri Krishna Hebbar http://www.artnet.com/artists/kattingeri-krishna-hebbar/ received his Diploma in painting from Sir J. J. School of Art (Mumbai), where he was a teacher. In 1941, he had a solo exhibition at KolkataAcademy of Fine Arts. On a study tour, in 1949, he left for Europe. In Paris (France), he studied at Academy Julian and Ecole Estinne, had solo shows, Mumbai, Paris and Londonuntil returned to India in1952.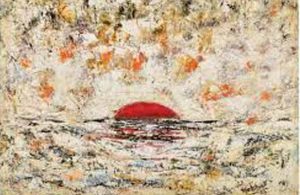 Drawing sustenance from the treasure accumulated from the past, he had to learn the vocabulary of art. His early artworks were call "Kerala phase," because of his depiction of the landscapes of the regions of Malabar and Tulu Nadu. His father was an occasional sculptor who used to make Ganesha idols. Born in 1911 in Kattingeri, (near Udupi, India in a Kannada), he was inclined towards art from his childhood. Better known as K.K. Hebbar, Kattingeri Krishna Hebbar https://auctions.bidandhammer.com/k-k-hebbar-drummer#.YZVQi1XMLIU was a celebrated artist known for his Indian-themed works.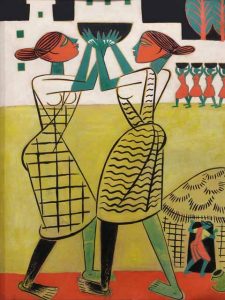 In his glowing waterscape and a particular exuberance to artistic style, the vibrant colour and rich texture of the work you convey a delight and exultation. He also developed his appreciation for European modernism. Kattingeri Krishna Hebbar experimented with many themes, drewing inspiration by writings, such as Jain manuscripts, the paintings at the Ajanta Caves and the art of Amrita Sher-Gil. Today, his artworks are consider highly influential in Indian Art History.https://www.grosvenorgallery.com/exhibitions/255/works/artworks-3583-kattingeri-krishna-hebbar-workers-1954/
To broaden your horizon of knowledge about other painters, you can type http://meetingbenches.com/category/paintings/. The sole purpose of this site is to spread the knowledge of these artists and that other people enjoy their works. The property of the images that appear in this blog correspond to their authors.