How to Dress in Renaissance Fashion
During Renaissance, pieces of clothing are scarce, so, you can look pictorial media to understand what was fashionable. Maybe, you do not know, but if a dress was torn, it was reuse as a clothing for children. Also at that time Italy was a fashion forerunner, so, nothing better Italian portraiture to understand what people wore in those centuries.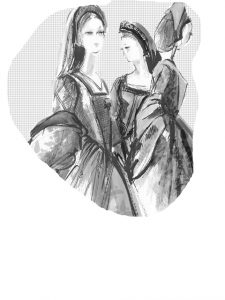 You need to remember, during the Renaissance, that creating textiles was expensive, so clothing was often recycled. When clothing of the upper classes was cumbersome and restricting movement, women wore gowns bodice with a fuller skirt that would hang down to the ankles and dresses expose much of the neckline. Welcome into the Renaissance fashion style.
From the beginning of the 16th century, looking Titian's portrait of Gerolamo Barbarigo you can perceive, the young Venetian lavishly dressed for his decade. Men's fashion of that time was dominate by broad-shouldered, while women Italian fashion establishing trends to the rest of Europe. Men and women wear shirts with high standing collars, in a frill at the neck and cuff, while dark colors grow in popularity, toghether codpieces and elaborate headdresses.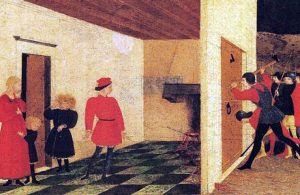 Western Europe it was wrapp by voluminous clothing, contrasting fabrics and forms of surface ornamentation. Renaissance beauty was not skin-deep. A decorative edging technique created by cutting, reached its height during that time, so, you need also to remember codpiece became an ornate piece of male dress, while in order to be contemplate fashionable woman must also be virtuous.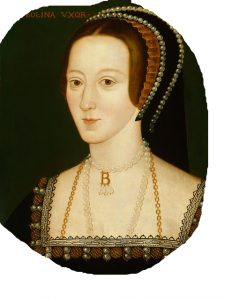 The early 16th century women's fashions? Over shoes flat, with broad square toes, sleeves long gowns with a linen chemise worn next to the skin. Theyr had sleeves puffed and elaborately cuffed, toghether short-waisted gowns open-fronted. If they was high waistline, it gradually descended to the natural waist in front, with cuffs elaborately trimmed. Looking the1533 Anne Boleyn portrait, you can discover she wear a French hood with pearls, toghether a square-necked black velvet gown decorated.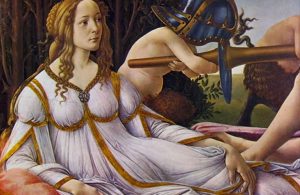 Renaissance portraits provide a resource for visualizing the period in which Sandro Botticelli's Venus and Mars was amalgamation of female physical beauty: symmetrical woman face unblemished and pure, slightly waved light in colour hair. Her lips? Red and full, while her abdomen protrude under her thin garment. A 1529 woman spinning of she wears linen cap and hood, whith black partlet characteristic of middle-class costume in her Netherlands. Along with a heavy gold chain, Santa Dorotea, of course, wears a dress with an organ pleated skirt (as well as a fitted bodice trimmed with embroidery), along with embroidered sleeves with puffs at the elbows and shoulders.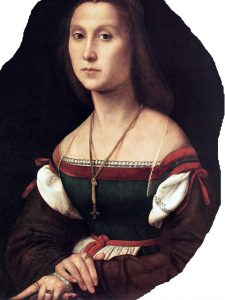 Against a dark background, a woman is portray in half and three-quarter length. She is turn to the left, with a gradual emergence of her figure from the shadows, but she detaches from it for a clearer definition of physical features and clothing. "La Muta" is an oil painting on wood by Raffaello Sanzio, preserved in the National Gallery of the Marche in Urbino. The style of this genius of the Italian Renaissance is not only in the portraits of women (such as for example also in the one called "La Velata"), but has also entered your wardrobe https://vestitidarte.wordpress.com/2013/01/16/raffaello-nell-wardrobe/. If you want to get to know other creative people who have contributed to enriching international fashion scene, you can type http://meetingbenches.com/category/boutique_travel/. The sole purpose of this site is to spread the knowledge of these artists and that other people enjoy their works. The property of the images that appear in this blog correspond to their authors.