Using multiple perspectives and stylizations of form.
His works melded aspects of Cubism and Fauvism in his still lifes, landscapes, and figurative works. He was active in design (as well as in painting), like many Czech modernists. He was born in Chropyně (Moravia), into an 1882 April day, and spent his childhood in Brno, but later moved to Prague. After training at the Prague Fine Arts Academy, he travelled extensively before joining other young artists. The beginnings of modern Czech painting art are connect with the name Emil Filla. With works dealing with the human figure, by 1920, in Prague, he participated in almost all nation-wide exhibitions.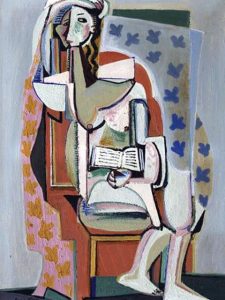 In 1909, Emil Filla joined the secessionist artists association "SVU Mánes" until  1911, when he join forces with fourteen other young avant-garde artists,  becoming the centre of Czech Cubism until 1914. In 1925, he had designed paintings on glass for the Czechoslovak Pavilion at the International Exposition of Modern Arts in Paris. In 1945, he was appointed professor at the Prague Applied Arts Academy. After the communist take-over, he spent the last years of his life in retirement, painting landscapes. Today, his works are held in the collections of the Olomouc Museum of Art in the Czech Republic.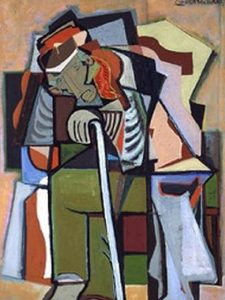 Strongly influenced by Picasso and Braque, beginning in 1910 he painted primarily in a Cubist style. He kept abreast of trends in Paris and Germany. He did not become a Surrealist, but in early 1930s, Surrealist influence also began to show in his painting and sculpture. Two sculptures Emil Filla did among the earliest Cubist sculptures), you can admire in the Prague National Gallery. During the war years 1939-45, he was interned in the concentration camps at Dachau and Buchenwald. In reaction to fascism, he developed the Animal of the Steppe's Style, inspired by Scythian reliefs and executed in various techniques. He died in Prague, where was buried in Střešovice. https://www.pantarhei.sk/knihy/umenie/vytvarne-umenie/maliarstvo-grafika/emil-filla.html
The sole purpose of this site is to spread the knowledge of these artists and that other people enjoy their works. The property of the images that appear in this blog correspond to their authors. To broaden your horizon of knowledge about other painters, you can type http://meetingbenches.com/category/paintings/.