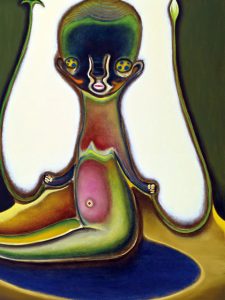 IZUMI KATO 1/3 – The place, where he was born is very important for him, because it is one of the oldest shrines in Japan. Although in 1992 he graduated in Department of Oil Painting at Tokyo's Musashino Art University, he was not naturally drawn to art at an early age. He paints with his fingers, wearing plastic gloves and the simplicity of his work always belies an elegant austerity. The artist's skill was on display in his first solo exhibition in Hong Kong, where viewers were attracted by selection of his enigmatic works, which evoked a primordial sense of ancient tribal time. Also in the Osaka's National Museum of Art http://www.nmao.go.jp/en/ you can find his beautiful paintings.
IZUMI KATO 2/3 – He uses hands like a tool, because he likes the way the colour feels on the canvas. What he thinks is not relevant, because beauty is very personal and subjective. He wanted to be an athlete, but he wasn't good enough, so he decided for art instead.  The surreal paintings which he paints directly with hand made him a creative artist of crescent significance. Some of his large canvases depict primitive-looking human shapes, but their smoky grey eyes exude a child-like innocence. You can admire his creativity in Museum of Contemporary Art Tokyo http://www.mot-art-museum.jp/eng/about.html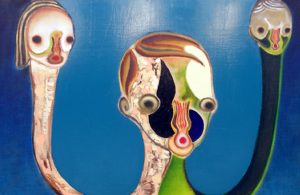 IZUMI KATO 3/3 – Don't be fooled by the simplicity of his art, because he retains a sense of ambiguity, which he perpetuates leaving his pieces untitled. He says that painting challenges the world, where he searches for another world inside. Ancient art from his birthplace has been key to his artistic aesthetic. He was born in Shimane (far western coast of Japan), natural and very quiet place, but the lure of town life was for him a key factor in deciding to study at the Tokyo institution. Currently he lives and works in Tokyo. Okazaki Mindscape Museum in Aichi is other place, http://www.kotodamaya.com/okazaki-mindscape-museum/ where are exposed some works of this artist.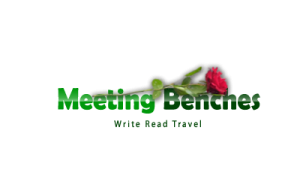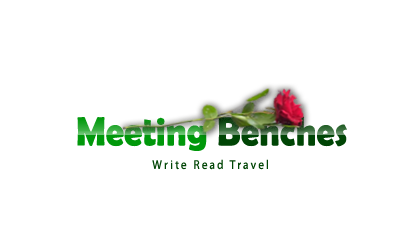 The intellectual property of the images that appear in this blog correspond to their authors. The sole purpose of this site, is to spread the knowledge of these artists and that other people enjoy their works. To pursue this issue, you can digit: http://meetingbenches.com/2017/09/japan-twenty-pictures/