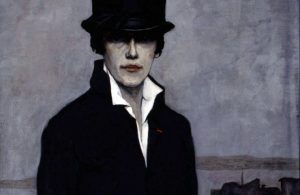 ROMAINE BROOKS 1/3 – She is in all the greatest stories of the twentieth-century painting. She was born in Rome. She became a painter away from the artistic movements of her time, inspired by the symbolist school, specializing in portraits, where many shades of gray dominated. Her parents returned to the United States, but she preferred spend almost her entire life, dividing it primarily between Paris and Capri (the island with a free paradise reputation, loved by eccentrics of many kinds). http://meetingbenches.com/2017/05/capris-island-azure-island-landscapes/ Her paintings include the protagonists of her relationships (such as Ida Rubinstein and Gabriele D'Annunzio).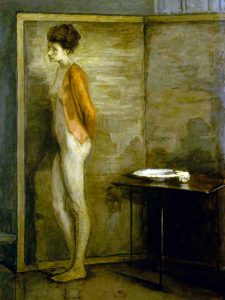 ROMAINE BROOKS 2/3 – She had been married to a pianist for a short while in her life, intertwining with other loving relationships, such as those with ballet dancer Ida Rubinstein and Gabriele D'Annunzio, but her most important relationship was with the writer Natalie Clifford Barney. She had also created drawings, which showed her talent for the surreal (fighting with mythical creatures, angels and demons). She was one of the artists, who formed the Parisian art scene of the 1920s, painting portraits of other women related to this period. In Paris she became an Art Nouveau artist, making part of the group of Americans, who had assumed Paris as an elective homeland.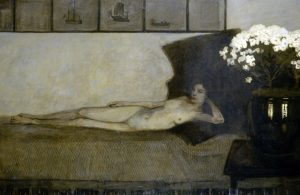 ROMAINE BROOKS 3/3 – She was an artist, who liked to challenge conventions (both in terms of lesbianism and in her artistic production) in a predefined figurative style. Her most famous self-portrait? It's where she is dressed in a riding jacket, a chrome-monotonous painting, but with a red dot, which represents the honor of the Cross of the Legion of Honor. She was a beautiful woman, and throughout her life she did not deny anything about sexual habits, dying in Nice in 1970, at the age of 96.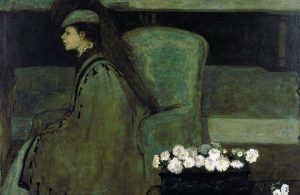 To pursue this issue, you can digit: http://meetingbenches.com/2017/05/romaine-brooks-18741970-american-painter-away-artistic-movements-time/
The intellectual property of the images that appear in this blog correspond to their authors. The sole purpose of this site, is to spread the knowledge of these painters and that other people enjoy their works.