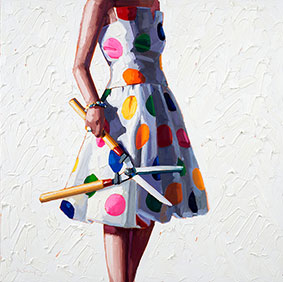 KELLY REEMTSEN 1/3 – She was born in Flint, Michigan, US in 1967. She studied Fashion Design and Painting at Central Michigan University and California State University Long Beach and now is based in Los Angeles, California. The paintings for which Kelly Reemtsen is best known are depictions of the role of the modern woman. Her work has been exhibited throughout the United States, including her 2013 exhibition America's Sweetheart. She is also known for her woodcut and linocut as well as other subjects including designer furniture and pills.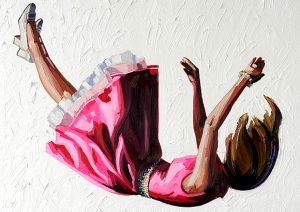 KELLY REEMTSEN 2/3  – Her paintings of  women in brightly colored vintage cocktail dresses are in full contradictions with carpentry equipment or power tools, they hold in their hands. The objects women hold (from dishrags to wrenches, chainsaws, and other masculine tool) address the question of the proper role of the contemporary woman.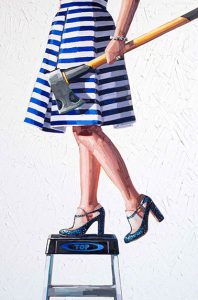 KELLY REEMTSEN 3/3 – What we can't see – is the face of the woman on her paintings. Her face would tell the real story, but Kelly Reemsten has masterfully overlooked this important part in all of her paintings. As anonymous torsos, these women remain beautiful representations of the female, with whoom anyone can identify.
The tools (the axe, hedge clippers, the chainsaw, even the hose) could have dozen different explanations. They could be used to repair or nurture, tell "I got myself into a mess" , but also to say:  "Don't mess with me."
Enjoy your own impression of them in gallery : http://meetingbenches.com/2017/04/kelly-reemtsen-1967-american-painter-cant-see-face/
Note: The intellectual property of the images that appear in this blog correspond to their authors and to those who have given them. The sole purpose of this site is to spread the knowledge of these painters and that other people enjoy their works.