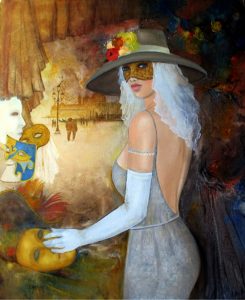 JEAN CLAUDE CAMPANA

He has been painting for the last thirty years. He started his career by exhibiting together with Baboulène, Buffet, Hilaire, Brayer. Strengthened by his expérience in surrealism, symbolism and realism, he has been devoted to Venice in a very personal style. The succession of glacis really captures the light, this way he creates theater scenes, where utopia and reality mixes with a lot of romanticism.
His latest series of paintings "The magic of the Venetian carnival" are worth looking. His paintings are full of color, the same as his life. In 1985 he successfully participated in art exhibitions in The Walley Finley Gallery in New York, Soho, Dallas. He is on the list of 100 best French painters.
Note: The intellectual property of the images that appear in this blog correspond to their authors and to those who have given them. The sole purpose of this site is to spread the knowledge of these painters and that other people enjoy their works.