VASKO TASKOVSKI 1/4 – He was born in 1937 in the village of Nižopole, Bitola in the southwestern part of the Macedonia (former Yugoslavia).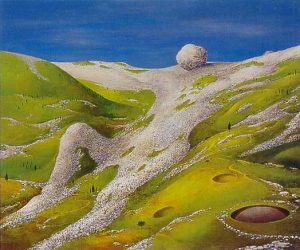 As the first post-war generation of children, there were no books for primers in school in Macedonian language. Children learned more verbally and without a program. His first teacher was Slavjanka (a partisan), dressed in a partisan uniform. He learned about watercolors in the fifth grade in Bitola. With the time he described the work with watercolors this way: "The watercolors flow through the paintbrush like blood through the veins. The paper is no longer paper, the colors are no longer colors, and all becomes a picture – a painting of a new world that has just been born"
VASKO TASKOVSKI 2/4 – In the summer of 1957, in order to earn some money with his friend they offered to write logos.They found a shop for dairy products which didn't have any logo and they offered to write one and paint a composition of dairy products. The boss, who was probably a good heart and wanted to help those young boys, told them: "Look, kids, I don't know what is a composition, but let's do that for me."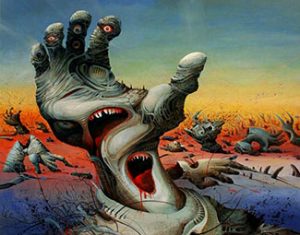 VASKO TASKOVSKI 3/4 – He graduated at the Academy of Applied Arts in Belgrade, Serbia in 1964. In the period between 1966 and 1991 he worked as a set designer in the Macedonian Television. He has had 40 one-man exhibitions (Skopje, Bitola, Belgrade, Zagreb, Vienna, Ankara, Cairo, New York, etc) and has taken part in a lot of group exhibitions in the country and abroad. Apart from paintings in oil, he also creates water colors artworks and graphics.
VASKO TASKOVSKI 4/4 – He finds inspiration in horses to create unbelievable surreal fantasies.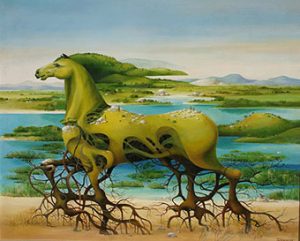 They followed all his cycles and occur in a different role and with a special purpose combining two trends : an ideal anatomically correct images and on the other hand – its surreal content. He follows a definite aim: to provoke the spectators with an influence of the bizarre and accidental things, using an array of vivid colors and varying landscapes.  He thinks that everything should be present on his painting: the form, the light, the intelligence and sensitivity, the dynamics and the steadiness, the scientific geometry that contributes for the complete harmony of the architecture of his artworks.