The woman who painted what the forest told her.
Its tourist activities include surfing and fishing, whale and bear watching watching, camping and biking, swimming. Ucluelet http://ucluelet.ca/ is on a peninsula on the west coast of Vancouver Island (British Columbia). In the indigenous Nootka language, Ucluelet means people of the safe harbour. During the Full moon weekend of July, the Soundwave music festival happens at the mussel beach campground. Precisely in these places, a Canadian painter had known values and rituals of the indigenous community that lived here since time immemorial.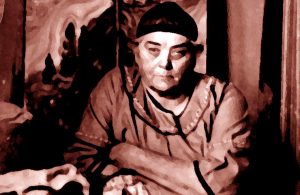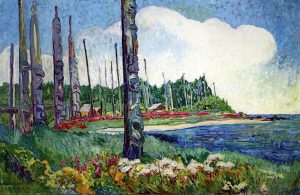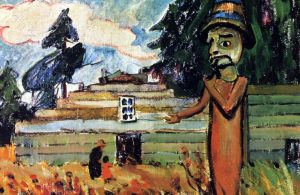 She stayed in a village near Ucluelet (west coast of Vancouver Island), home to the Nuu-chah-nulth people, and that days made a lasting impression on her. Her interest in indigenous life was reinforced by a trip to Alaska nine years later. In 1910, EMILY CARR returned to Europe to study at the Académie Colarossi in Paris, where the Post-Impressionists and the Fauvists she met and studied influenced her. After returning home, she organized an exhibition in her studio, becoming the first artist to introduce Fauvism to Vancouver. When locals failed to support her bold colour palette and lack of detail, she closed the studio and returned to Victoria.
Her home was on Birdcage Walk (now Government Street), in the James Bay district of Victoria. She was one of the first painters in Canada to adopt a Modernist and Post-Impressionist painting style. Born in Victoria (British Columbia), in a December day, 1871, EMILY CARR was the second youngest of nine children born to English parents. At age 27, she made the first of several painting trips to aboriginal villages.
In the summer of 1912, she traveled to Haida Gwaii and the Skeena River, where she documented the art of the Haida, Gitxsan and Tsimshian. On her return to the south, EMILY CARR organized an exhibit of some of this work. She gave a detailed lecture about the aboriginal villages that she had visited. With her financial circumstances straitened in Victoria, she painted a few works in this period drawn from local scenes. She died on March day, 1945, in her hometown of Victoria, where is buried at Ross Bay Cemetery.
To pursue this issue, you can digit https://www.emilycarr.com/about-emily-carr/. The property of the images that appear in this blog correspond to their authors. To broaden your horizon of knowledge about other painters, you can type http://meetingbenches.com/category/paintings/. The sole purpose of this site is to spread the knowledge of these artists and that other people enjoy their works.