When more serene and harmonious qualities are regarded as the highest models.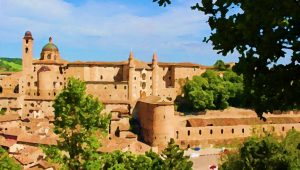 The collections belonging to the National Gallery of the Marche, are on display in Ducal Palace built for the Duke Federico, http://www.gallerianazionalemarche.it/en/ducal-palace/ where next to his own rooms (between the twin turrets), he had a study built using wood inlay. The museum's prestige is linked to the masterpieces of the Renaissance that are part of its 15th-century core (such as the "Madonna of Senigallia" (by Piero della Francesca) and the "Portrait of a Gentlewoman" (Raphael).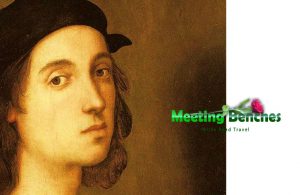 Restaurant "La Vecchia Fornarina" https://www.facebook.com/pages/Urbino-Ristorante-La-Fornarina/1388994128075004 is located in the historic center of Urbino, is the oldest restaurant in the city, where the typical dishes of Montefeltro are served (appetizers, fresh homemade pasta, main courses of meat and delicious traditional sweets). RAFFAELLO SANZIO was born here, where he spent his formative years here in the painting workshop of his father. His Birth Home http://www.casaraffaello.com/ is situated in the former artisan district of the city of Urbino (in the fifteenth century presided over by the Montefeltro's Duke).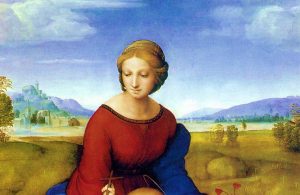 His palette was rich and he used almost all of the then available pigments. He painted several of his works on wood support, but he also used canvas, and he was known to employ linseed or walnut oils. In several of his paintings, he even employed the metallic powdered gold and even metallic powdered bismuth. Many of his works are found in the Vatican Palace. RAFFAELLO SANZIO was enormously productive, running an unusually large workshop. His career falls into three phases: his early years in Umbria, then a period of about four years absorbing the artistic traditions of Florence, followed by his twelve years in Rome.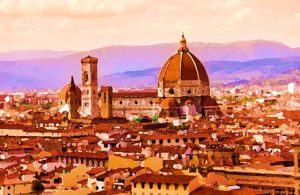 After his death, the influence of his great rival Michelangelo was more widespread. He is best known for his "Madonnas" and for his large figure compositions in the Palace of the Vatican in Rome. RAFFAELLO SANZIO was born on a April day, 1483, in Urbino (Italy). At the time, that town was a cultural center that encouraged the Arts. His father, taught him basic painting techniques, introducing him at the Duke of Urbino's court. Living in Florence (where he was influenced by the works of the Italian painters Leonardo da Vinci, Michelangelo and Masaccio), he began painting a series of Madonnas. He was highly admired by his contemporaries, although his influence on artistic style in his own century was less than that of Michelangelo.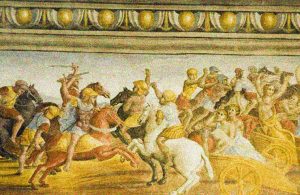 When he was just 11 years old his father died, and RAFFAELLO SANZIO took over the task of managing with success his father's workshop. As a teen, he was commissioned to paint for the Church of San Nicola, in Città di Castello. In 1500 a master painter invited him to become his apprentice in Perugia, where the apprenticeship provided him the opportunity to gain hands-on experience. In Rome, he painted the Room of the Signatura frescoes (Palace of the Vatican). In 1514, a Pope hired Raphael as his chief architect. During Roman time, he produced famed Madonna of the Chair and Sistine Madonna.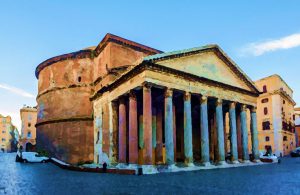 By 1514, while he continued to accept Roman commissions, RAFFAELLO SANZIO had by this time begun to work on architecture (not limited to religious buildings, but also extended to designing palaces), and his details would come to define the architectural style of the late Renaissance. In 1520, on his 37th birthday, he died of mysterious causes in Rome, after had been working on a large painting: The Transfiguration. From 1517 until his death, he lived in the in the Roman Borgo. He never married, and is said a permanent fixture in his life was Margherita Luti (the daughter of a baker). His body was interred at the Pantheon (Rome).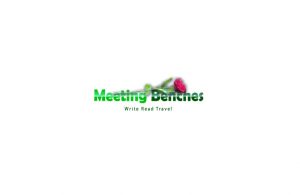 The property of the images that appear in this blog correspond to their authors. The sole purpose of this site, is to spread the knowledge of these artists and that other people enjoy their works. To pursue this issue, you can digit: http://www.artiststudiomuseum.org/studio-museums/casa-natale-di-raffaello/