When surreal paintings celebrate beautiful relationship between people and nature.
The exploration of nature in art can take endless forms, because its provides us with a vast wealth of inspiring phenomena. Trees that can draw and what life will be like as an Arctic explorer in the year 2100. All you need it's e special zone. Brilon is a town in North Rhine-Westphalia (Germany), that lies between the Arnsberg Forest nature reserve and the Lake Diemel nature reserve. The Haus Hövener Museum, next to the Ostsauerlandes geological history, shows the "oldest Sauerlander", a dinosaur, which was modeled in 1978. The museum also deals with the history of mining and metallurgy (the history of the foundry of Junker bells). Among the sons and daughters of the city, Engelbert Seibertz (painter of history), the painter Franz Kornemann and the painter Moki Mioke.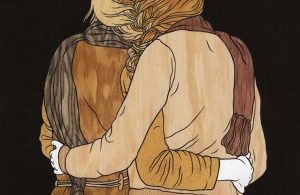 While in kindergarten, she decided that wanted to become a painter. She grew up in the countryside, in a creative working class family, where she discovered her passion for drawing and painting early on. MOKI MIOKE was born in 1982 in Brilon (Germany), but she has been living and working in Hamburg, where she also graduated with a Masters Degree from the Academy of Fine Arts. At that time, students had time to develop their own ideas, also for her interaction with other students were of bigger importance, than the lessons.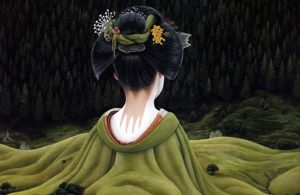 Before university she was already experienced as a painter, through curiosity and impatience. Her acrylic paintings are inspired by Japanese anime (Hayao Miyazaki), as well as mossy Northern landscapes. For MOKI MIOKE nature itself it's art, where you can find inspiration for painted works. A special painterly skill is employed to give a beautiful degree of reality to her paintings. For her, variety is needed, because it helps to stay focused. She use different media (also taking photographs), discovering her surroundings. For her, nature is the source of life, where there is so much to explore and preserve.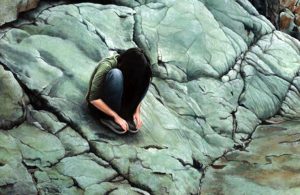 She collect a lot of material long before I start working, also from pictures she find online. She is able to find stunning glaciers and mossy green boulders: that it's her tribute in her passion. She has a great passion for nature, that she expresses through her work in her exploration of scenes and hidden treasures. Her photography provides images for her surreal paintings, while her creativity manifests in other media. You don't feel as though you're seeing just another tree. MOKI MIOKE finds a perspective which she can observe the environments she seeks out. Also for you it's possible, wandering in imagination with your ghost, enter in fantastical places you visit. https://www.youtube.com/watch?v=VDtzj3EK4BE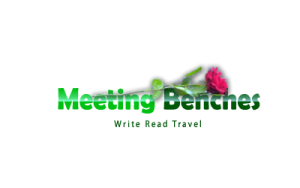 The property of the images that appear in this blog correspond to their authors. The sole purpose of this site, is to spread the knowledge of these artists and that other people enjoy their works. To pursue this issue, you can digit: http://www.mioke.de/main.htm