When art goes beyond contemporary scenes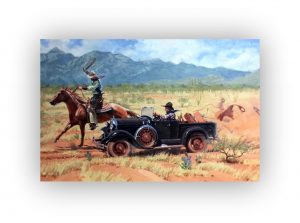 FRED FELLOWS 1/3 – He has won gold and silver medals in all media: painting, sculpture, watercolor and drawing. He has an active imagination and a God given talent for drawing. His grandfather was a civil industrial engineer in Ponca City. Born in Ponca City (Oklahoma), he lived his early years to the 101 Ranch, close to the culture of the Native Americans. By the late 60's, he had established a sound regional reputation and was breaking into the Arizona market. His paintings and sculptures are in the permanent collections of The Buffalo Bill Historical Center https://centerofthewest.org/ in Cody (Wyoming).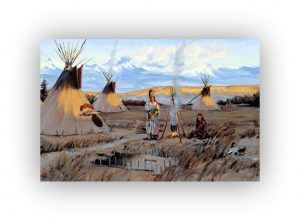 FRED FELLOWS 2/3 – While living in California he learned to handle horses, to rope cattle. He saved his money for a few years, and then moved to where every artist must go: Taos (New Mexico). After some years he went off on to Bigfork (Montana), where he stayed for forty years. Over the years he put together an extensive research library (and collection of artifacts), dealing with the Old West. You can see his paintings in the permanent collections of the Phoenix Art Museum http://www.phxart.org/ in Phoenix (Arizona).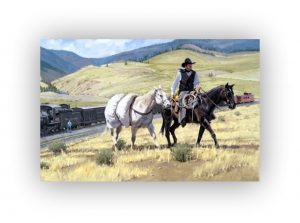 FRED FELLOWS 3/3 – Encouraged by his step father to apply his artistic talent, he honed his art skills at Art Center School in Los Angeles. He was able to realize his ambition to become a full time artists, but not without challenges. With his wife Jackie and five children, he traded his paintings for groceries. In 2000 he left Montana and moved with his family to Sonoita, Arizona. Visiting Arizona, you can admire his paintings at the Desert Caballeros Museum https://westernmuseum.org/ in Wickenburg (Arizona).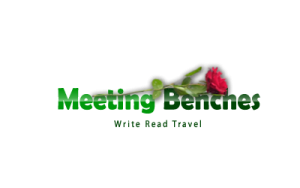 The intellectual property of the images that appear in this blog correspond to their authors. The sole purpose of this site, is to spread the knowledge of these artists and that other people enjoy their works. To pursue this issue, you can digit: http://www.fellowsstudios.com/fred-fellows.html