TRUE VISION OF THE AUSTRALIAN LANDSCAPE FROM A TERRACE ON THE RIVER YARRA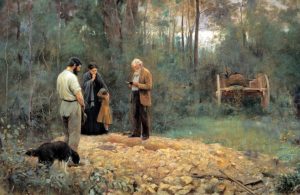 FREDERICK MCCUBBIN 1/3 – That baker's son had begun drawing in Melbourne, where he met a Swiss artist, who painted naturalistic landscapes. At Carlton, attending courses at the Artisan School of Art, he became friend with other artists. Moving into the bush near Melbourne, he started working outdoors. At Vittoria National Art School he studied landscaping, becoming one of the founders of Australian Impressionism. In Melbourne, https://www.ngv.vic.gov.au/museum you can admire some of his paintings, such as Williamstown, Stone Crusher (Richmond Quarry) and Autumn Memories.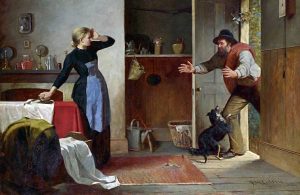 FREDERICK MCCUBBIN 2/3 – From 1886 until his death he was master of drawing at the National Gallery School. https://www.ngv.vic.gov.au/ebooks/northwind/#/ In 1889 he married Annie Moriarty, they had seven children, of whom their son Louis McCubbin became an artist and director of the Art Gallery of South Australia 1936–1950. A grandson, Charles, also became an artist. Frederick McCubbin used his family as a models, often illustrating rural workers, poverty and hardship. In fact, he was very interested in painting images, whicht showed ordinary people in the Australian bush. Pioneers and sheep, miners, and others, have exemplified in his works the robust spirit of emerging nation.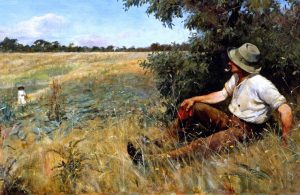 FREDERICK MCCUBBIN 3/3 – Before traveling to Europe, between 1904 and 1907 he had personal exhibitions in Melbourne. In the Old Continent, he knew Turner's pictorial style, appreciating his ability to use the best of light effects. Many of his works are narrative, while others show the strong influence of French naturalists. In 1955, at the centenary of his birth, Victoria's National Gallery held his first retrospective exhibition. In the last part of his life he traveled less, preferring to stay in his veranda watching the Yarra River. Http://www.sheppartonartmuseum.com.au/collection At the doors of the 1917's winter solstice, he died in his home at 42 Kensington Road.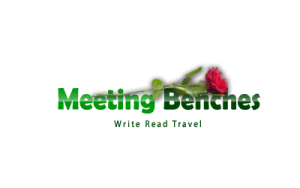 The intellectual property of the images that appear in this blog correspond to their authors. The sole purpose of this site, is to spread the knowledge of these painters and that other people enjoy their works. To pursue this issue, you can digit: http://meetingbenches.com/2017/06/travel-australian-creativity-blue-mountains-adelaide/