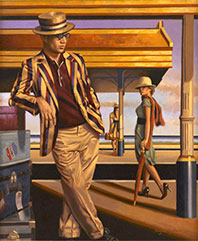 PEREGRINE HEATHCOTE 1/3 – He was born in London in 1973 and spent his childhood living in both Britain and Dubai . He was the youngest ever student of Heatherly College of Art in London. Aged just eight years old, he attended holiday classes in printmaking and drawing. Son of an Antiques dealer specializing in military, he was brought up in a house by the Thames crammed with uniforms in glass cases, swords, canons and relics from various historic sea and land battles, feeling more like in a museum than at home. In 1995 he graduated from the Florence Academy of Art.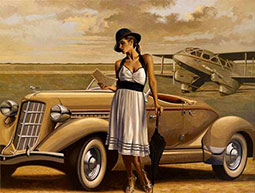 PEREGRINE HEATHCOTE 2/3 – The artist uniquely blends a sense of nostalgia with the contemporary world, while creating narrative stories in paint. His paintings reminds a world of glamour and intrigue. He fused iconic pre-war design with modern conceptions of beauty and silverscreen-era romance. Each canvas suggests a story.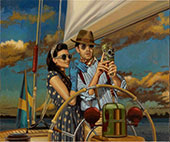 PEREGRINE HEATHCOTE 3/3 – He currently lives and works in Chelsea, London. The BBC have recently filmed a documentary on Peregrine's portrait painting which has been aired worldwide. His paintings, including commissioned portraits of prominent executives, aristocrats, and socialites, have been exhibited at the Royal Society of Portrait Painters, the Royal Academy and are collected and exhibited all over the world.
To pursue this issue, visit the gallery of paintings here: http://meetingbenches.com/2017/04/peregrine-heathcote-english-painter/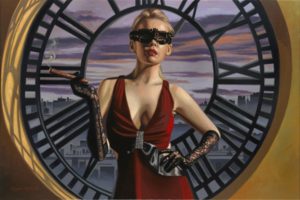 Note: The intellectual property of the images that appear in this blog correspond to their authors and to those who have given them. The sole purpose of this site is to spread the knowledge of these painters and that other people enjoy their works.