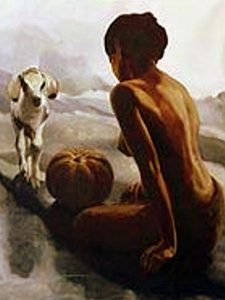 BIKASH BHATTACHARJEE 1/3 – He was an Indian painter from West Bengal, who lived in Kolkata all his life. https://www.youtube.com/watch?v=dXxtAG1P1Pw Through his paintings he depicted the life of the average Bengali middle-class. He painted with oils, acrylics and water-colours. He achieved commercial success early in life with his Doll Series in the 1960s. He is credited with bringing realism back to Indian art, at the time, when artists in India were leaning more towards distortion of figures. He had achieved mastery over the capturing of the quality of light (that effect lend his works a superb realism). In 2003, he was awarded with the highest award of India's National Academy of Arts.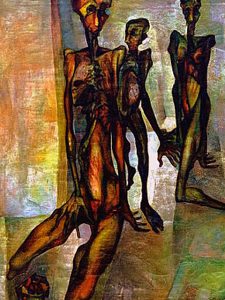 BIKASH BHATTACHARJEE 2/3 – He lost his father at a very early age and the struggle for survival left him with a deep sense of insecurity (as well as an empathy for under-privileged). In 1963 he graduated with a Diploma in Fine Arts at the Indian College of Art. His oil paintings always depict the exact quality of drapery or the skin tone of a woman. https://www.youtube.com/watch?v=VbuzuDTp3vg Subject matters, included depictions of the female form (but also people of all ages and situations). His drawings form a fitting introduction to his paintings, revealing the predilection of the artist for forms (in terms of tone rather than line).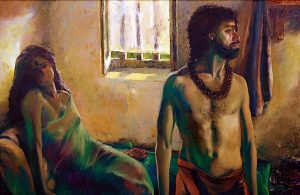 BIKASH BHATTACHARJEE 3/3 – His work is a combination of fantasy and realism: reality sets the rolling ball and fantasy helps the canvas assume a new reality. His women are strange mixture of spirituality and sensuality. He achieved mastery in capturing the quality of light. https://www.youtube.com/watch?v=k4BTwBYkzkE He often painted in a realistic style and his paintings were exhibited outside India (he shows in 1969 in Paris and Yugoslavia, Czechoslovakia, Romania and Hungary, London and New York). In 2000 he suffered a paralytic stroke and he died in a Kolkata nursing home.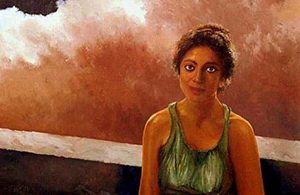 The intellectual property of the images that appear in this blog correspond to their authors. The sole purpose of this site, is to spread the knowledge of these painters and that other people enjoy their works. To pursue this issue, you can digit: http://meetingbenches.com/2017/04/bikash-bhattacharjee-19402006-indian-painter-capturing-quality-light-daily-life/