Stairs really does not like travelers or locals. But some stairs are so impressive, that they have become a major attraction and people seek them for themselves. Play of colors, unusual design or legend that is associated with them, all will force you to climb them and the visit will be one of the best experiences ever.
Hawaii's breathtaking but illegal 'Stairway To Heaven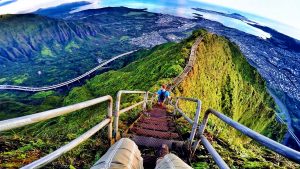 Or "Haiku Stairs" as it has been nicknamed by locals, has 3922 steps that lead to the peak of Puu Keahi a Kahoe. The hike is difficult. You have to make the 2,120-foot. The stairway was originally installed during World War II. Even with all the restrictions, it doesn't stop the thrill seekers, who say it's worth the risk of being arrested. Many people start the hike early in the morning when it's still dark so they can catch the sunrise.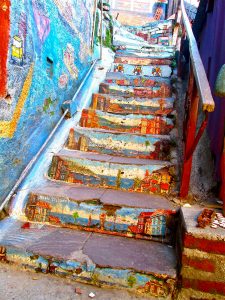 Valparaiso, Chile
Wonderful colorful staircase can also be found in other parts of the city. Thanks to this, the darker realm of some suburbs has changed into a magnificent art, which in addition carries a message. Indeed, some steps may also contain minor paintings mapping fragments of Chilean history.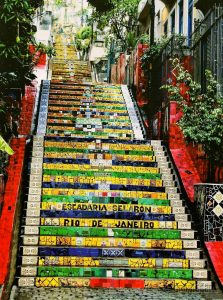 Selarón Staircase
Brazilian metropolis of Rio de Janeiro has one exceptional cult place – staircase of eccentric artist Selarón. At the beginning, he only would like to attract his customers and uplift the environment around, but they became one of the artist's most famous artworks all over the world. The stairs used the band U2 for their clip or Fanta for its advertising.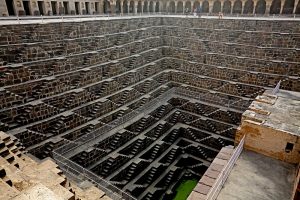 Chand Baori, India
Although it does not seem possible at first glance, Chand Baori is a water tank, the deepest and largest in India. It was built by King Chanda near the village of Abhaneri in Rajasthan around the turn of the 8th and 9th century. It has 16 floors, which are connected with 3500 steps. Because the water temperature in the tank is 5-6 degrees less than the air, it was used by locals like a public bath in greatest heat.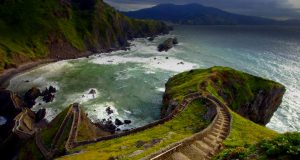 San Juan de Gaztelugatxe, Spain
Other of the most interesting stairs in the world can be found in Spain. Island Gaztelugatxe and mainland are connected by narrow bridge, which gradually passes into the stone staircase with incredibly beautiful perspective. Finally it brings you to the top, where is a church from the 10th century, a popular place of local pilgrimage.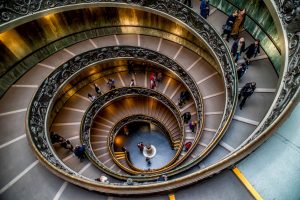 Vatican Museum, Vatican City Absolute legend became dramatically spiral Bramante stairs in the Vatican Museum. The original one was built in the beginning of 16th century. Within a few centuries were so used, that they needed complete reconstruction. Modern design brought surprisingly even more elegant and visually interesting architectural experience. Spiral construction becomes apparent the most from the top floor, because down the stairs it becomes thinner and creates a genuine building element.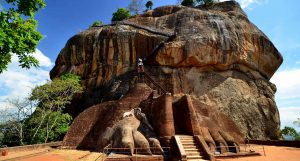 Sigiriya, Sri Lanka Unique staircase can also be found in Sri Lanka. It leads to the top of massive, 200-meter high rocks, nicknamed Sīhāgiri (Lion Rock). On the top king Kashyapa built defensive fortress in the 5th century, which after his death served as a Buddhist monastery. Up you have to climb 1200 steps. Except from the rare historical monument registered on the UNESCO list, you will be rewarded with gorgeous views of the surroundings.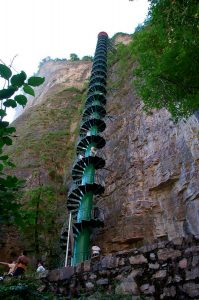 Spiral Staircase in Taihang Mountains, China
A 300-foot (91,5m) staircase along a mountain face in the Taihang Mountains in Linzhou, China offer the thrill of mountaineering without the danger. This spiral ladder is only open to people under 60 years and you have to sign a consent form confirming that you don't have any heart or lung problems. It is so narrow that only one person at a time can fit widthways.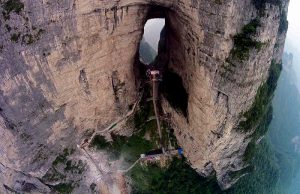 Tianmen, China Tianmen mountains offer several tourist areas – one is huge staircase with 999 stairs that lead to non-traditional cave. Its nickname is "Heaven's Door/Gate Cave. It was formed naturally as a result of soil erosion. The trained tourists are up to see it in just half an hour. The number "9" in this case is not accidental. In the Taoist tradition this number is a symbol of the emperor (son of heaven).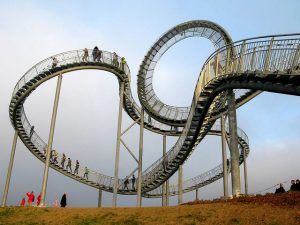 Tiger and Turtle staircase. If you are terrified of roller coasters this is definitely the easy way to experience the thrill. What may appear from afar as a roller coaster is actually an intricate walkable staircase with 249-steps in Angerpark, Duisburg, Germany, built in 2011. It was designed by Ulrich Genth and Heike Mutter. In 2013, Tiger and Turtle – Magic Mountain was ranked as #5 on The Huffington Post's list of Most Extreme Staircases.
To pursue this issue, click here: http://meetingbenches.com/2017/02/the-great-madness-i-will-only-complete-this-crazy-original-dream-on-the-last-day-of-my-life/
Note: The intellectual property of the images that appear in this blog correspond to their authors and to those who have given them. The sole purpose of this site is to spread the knowledge of these painters and that other people enjoy their works.