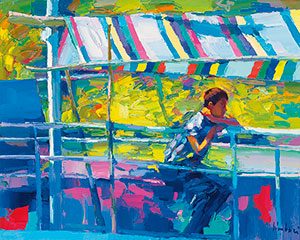 NICOLA SIMBARI   1 / 4 – He was born in San Lucido, Calabria, Italy and this beautiful area greatly impacted his Mediterranean paintings: the blues of the ocean and sky, and the bright hues of the flowers. Though he was raised in Rome, where his father was an architect for the Vatican. At the age 13, he decided to study art and studied it at the Accademia di Belle Arti di Roma. At the age of 22 years old, he opened his first studio in Rome. His early works featured scenes from his childhood – cafes, fishing villages and the Italian countryside.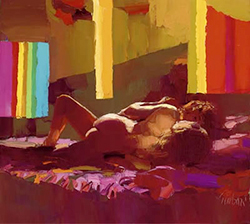 NICOLA SIMBARI  2/ 4 – His early exposure to the architectural world had a lasting impression on his art, as he incorporated geometric forms and architectural structures into almost all of his paintings. Mediterranean landscapes and paintings of contemporary European life are his usually subjects, although he also painted scenes of the Southwest. He is considered by many to be Italy's most important modern artist. He used stunning bivid colors and brilliant tones, his paintings are full of light and energy.
NICOLA SIMBARI  3/ 4 – His originality and commercial appeal brought his art to exhibitions in London and New York by the 1950s. He was commissioned to paint murals for the Italian Pavilion at the 1958 World's Fair in Brussels. His works can be found in numerous museums and private and corporate collections around the world,  including the Bank of Tokyo and the Christian Dior Collection in Paris; Italian State Railways in Rome; Liberty Company in London; Cincinnati Fine Arts Department, and many others in America.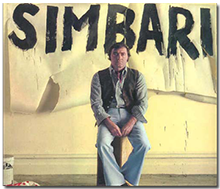 NICOLA SIMBARI 4/ 4 – Major American and English critics have called Simbari "thoroughly disarming"; one who paints "boldly and in a state of excitement"; "whose personal enthusiasm and enormous zest for life have much the same infectious appeal as do his paintings." Artist statements: "When I paint, I'm like a writer," Simbari states, "I must have something to say. My paintings are like entries in a diary, because they are all reactions to things I have seen or felt".
To check the gallery of paintings, click here: http://meetingbenches.com/2017/01/nicola-simbari-1927-2012-italian-painter-one-who-paints-boldly-and-in-a-state-of-excitement/