Spectacular underwater galleries make divers fall under their spell and display the work of the ocean itself. During the weeks and months under water the ocean hand down impressive, peerless traces to the pictures. These underwater museums turn the ocean floor into art galleries :
GRENADA, West Indies – first underwater sculpture park
In 2006, Jason deCaires Taylor founded and created the world's first underwater sculpture park. Situated off the west coast of Grenada in the West Indies it is now listed as one of the Top 25 Wonders of the World by National Geographic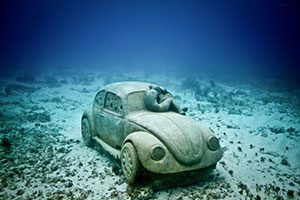 MUSA (Museo Subacuático de Arte), Cancun, Mexico
Co-founded by the same person, Jason deCaires Taylor,  MUSA was formed in the waters surrounding Cancun, Isla Mujeres and Punta Nizuc in 2009. It consists of over 500 permanent life-size sculptures. It one of the largest and most ambitious underwater artificial art attractions in the world. All of the sculptures are placed 2-8 meters underwater.  They are fixed to the seabed and made from specialized materials used to promote coral life. The sculptures celebrate Caribbean culture and history. The Museum aims to demonstrate the interaction between art and environmental science. The layout of MUSA is divided into two galleries called Salon Manchones and Salon Nizuc. First is eight meters deep and suitable only for scuba divers. Second can be seen snorkeling or taking the boat tour with the glass bottom.
FLORIDA KEYS National Marine Sanctuary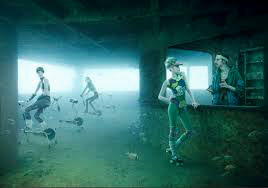 Underwater exhibition "LIFE BELOW THE SURFACE" on the second largest artificial reef in the world includes twelve photographs of Ausrian photographer Andrea Franke. All are set up to 90 feet (27 metres) deep in the remains of the former warship the "Vandenberg", sunk in 2009 to 7 miles off the coast of Key West. According to author, they depict a revel era of European style and cultural history (e.g. girls gossiping at a picnic), while another artwork captures a woman doing her laundry.
Lanzarote – Museo Atlantico, Europe
Museo Atlantico is the first underwater contemporary art museum in Europe by sculptor Jason deCaires Taylor. It is situated in clear blue waters off the coast of Lanzarote in the Canary Island, Spain. Accessible to snorkelers, divers and observers through glass bottom boats, the museum is due to be completed by December 2016 and will consist of ten underwater galleries.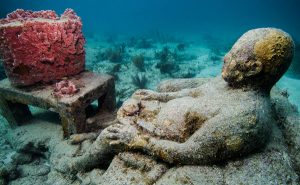 Ocean and is designed to last for hundreds of years but will be an ever changing exhibition as marine life changes and transforms the surfaces of the sculptures. Referencing Lanzarote's unique status as a UNESCO World Biosphere Reserve, the works will incorporate a large scale architectural installation and an underwater botanical sculpture garden featuring a variety of Lanzarote's local species.
To follow this theme, click here:
http://meetingbenches.com/2016/12/jason-decaires-t…r-sculpture-park/
http://meetingbenches.com/2016/12/jason-decaires-t…water-sculptures/
http://meetingbenches.com/2016/12/the-surrealist-u…f-andreas-franke/
http://meetingbenches.com/2016/12/andreas-franke-a…elow-the-surface/