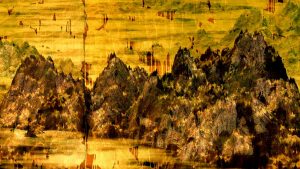 In the modern era, many of the traditional uses of Chinese poetry remain intact (these include relationships between politics and poetry). The early twentieth century, was a period in which the world's other linguistic traditions of poetry influenced Chinese poets. Modern Chinese poetry, does not follow prescribed patterns. Poetry was revolutionized (after 1919's May Fourth Movement), when writers tried to use vernacular styles, closer to what was being spoken, rather than previously prescribed forms. The formation of various literary and poetic societies, played an important role in the developing movement of modern Chinese poetry (among these societies, Crescent Moon Society and League of Left-Wing Writers). Also magazines played an important role in the developing movement of modern Chinese poetry (one of the important early publications was New Youth). https://www.amazon.it/21st-Century-Chinese-Poetry-Combined/dp/1939426901/ref=sr_1_1?ie=UTF8&qid=1482520306&sr=8-1&keywords=21ST+CENTURY+CHINESE+POETRY
PARTING BEFORE DAYBREAK – by An Qi
First the day, then daybreak, and finally the time for parting. Local time in Beijing is 7 o'clock according to the TV. As a child, I liked to lie in bed and wait for daybreak, my silver broach stayed in its soft dormant curve. I counted my fingers, exactly ten. Almost daybreak, but no light in the sky. At daybreak you come. Daylight is gone when you go. Days with light, days without light, days come, days go. You come, you go, coming and going, walking to me, and away from me. Now a grown-up, I still daydream, waiting for daybreak like waiting for an archaeologist to excavate, patting me with a spade and expose me to daylight. Oh, oh, just as I feel the thrill, I see your hand leaving.
FERRY – by Bei Xiaohuang
Changing to query, I give Baidu.com a try. Just like when lost in the hills, I ask for direction from a wrinkled old granny. One day, I keyed in "Bei Xiao Huang", and found a few traces of a man: he has the habit of using a green mugwort twig, dipping it in the moon-lit brook and writing down seductive, inconsequential words. Baidu? When will my inquiry lead me to my moon maiden, peaceful and tranquil, among the rustling reeds at the water's edge. Ferry? There will come a day when I arrive at the flowery other shore. Will anyone there be gently tapping the keys Bei – Xiao – Huang? Like his name, he still lives quietly in the light of the day.
ESSENTIAL MATTERS – by Li Li
Let me count a few things that I can't do without. In the past there were letters, so envelopes and post offices were essential. Then, there must be doves, a cool breeze, reveries, and a backdrop of dusk on my way to the post office. A place to say farewell was essential when it's time to leave home; there was a ticket in my hand, him at the windy train station, tears in our eyes, and the satisfaction running down my body as I turned around. Reaching middle-age, children nearby and healthy parents are essential, so are the lovely words on the pages I turn, and the scents of the fruits that he brought to the room. Finally, the peach flowers that bloom overnight, if you smell the sweet-scented ghosts under the trees, please know they are my family who left this world too early.