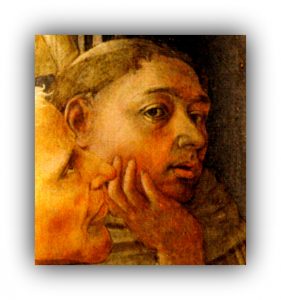 In 1420, he was admitted to the Carmelite Friars community (Priory of Our Lady of Mount Carmel in Florence), after his parents had died. The little treasure – Portrait of a Man and Woman at a Casement – was born ca. 1440. With a view onto a landscape, this is the earliest surviving double portrait in Italy. The little painting that you can admire at the MET http://www.metmuseum.org/ (tempera on wood, 64.1 x 41.9 cm) have a father named Fra' Filippo Lippi (aka Lippo Lippi), a Florentine artist, he was supported by the Medici family, and his paintings became popular.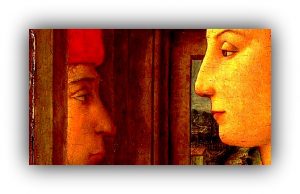 In 1458, he set about painting a picture for the monastery chapel of St. Margherita, where he met a novice of the Order, Lucrezia Buti. He asked that she might be permitted to sit for the figure of the Madonna, but it was a pretext. He abducted her to his own house, engaging in sexual relations with her. The Pope granted Lippi a dispensation to marry Lucrezia, but before the permission arrived, he had been poisoned. What happened? They had a son (Filippino Lippi), who became a painter. As you can see, the woman of this painting she are dressed at french style, and she is observed by a man, appearing at a window.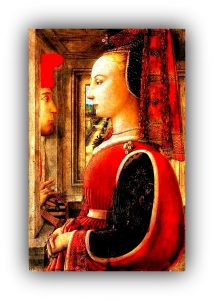 If you prefer – and you can choose what you want – the two figures may be Lorenzo di Ranieri Scolari and Angiola di Bernardo Sapiti (who were married about 1439). https://www.khanacademy.org/humanities/renaissance-reformation/early-renaissance1/painting-in-florence/v/fra-fillippo-lippi-portrait-of-a-man-and-woman-at-a-casement-c-1440 Yes, maybe, instead of studying, he spent all his time scrolling pictures on his own books and those of others, buthis career – without fundamental variation in style or in coloring – was one of continual  development. Visiting central Italy, do not forget to go to Spoleto, because Lippi is buried on the right side of the transept Within the Spoleto Cathedral.