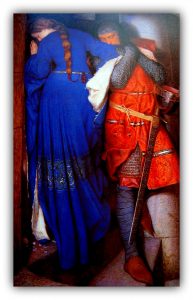 She was a princess, he was one of her father's common soldiers. The couple suffer the fate of defiant youth in medieval romances: Hildebrand is sentenced to death, but he can meets Hellelil, for their last encounter before his sentence is carried out. This artwork (watercolour on paper), is held by the National Gallery of Ireland, in Dublin http://www.nationalgallery.ie/planavisit and is based on the tale of Hellelil and Hildebrand. The Meeting on the Turret Stairs, it is an watercolour on paper, and was born in 1864, by Sir Frederic William Burton.
Sir Frederic William Burton was born on 1816 at Corofin House (County Clare, in Ireland), and by the 1840s was considered the most important painter in Ireland. In 1874, he became director of the National Gallery, managing to successfully negotiate to acquire an art collection (which included Piero della Francesca's, Nativity and Botticelli's Venus and Mars). Although Burton died in London, he waiting for you at the Mount Jerome Cemetery in Dublin http://www.mountjerome.ie/?content=opening-hours where he was buried.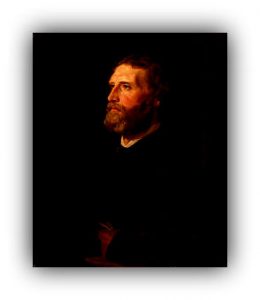 Meeting on the Turret Stairs, is available to view for two hours a week in the Gallery's ESB Centre for the Study of Irish Art (admission is by timed ticket, available from the Information Desk in the Millennium Wing). http://www.discoverireland.ie/tourist-item-pages/tourist-information-offices This watercolour painting, depicts the ill-fated lovers Hellelil and Hildebrand, meeting on the stone stairway of a medieval tower. The princess and her bodyguard had fallen in love, but her father ordered his sons to kill him. Reading a poem had been translated into English in 1855 by Whitley Stokes, Burton was inspired by the story of the ill-fated lovers told in an old Danish ballad, and the painting captures the couple's poignant final embrace.