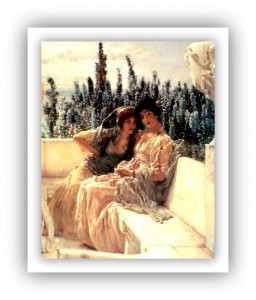 LAWRENCE ALMA-TADEMA 1/4 – Dutch born and die English, this is the geographic frame of a painter from the Victorian era. He entered the Royal Academy of Antwerp in Belgium, becaming assistant to the painter and professor Jan de Taeye, whose courses in history. Inside its Merovingian themes you can observe the artist moving by the deepest feeling and the strongest spirit of romance.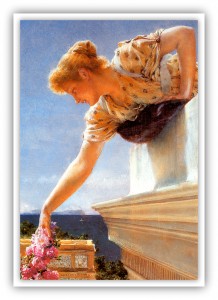 LAWRENCE ALMA-TADEMA 2/4 – He is known to have painted scenes of life in ancient times, always romantically elegant and rich in floral motifs. He imbues all his scenes from ancient life he brings them within the scope of modern feeling, and charms us with gentle sentiment and playfulness.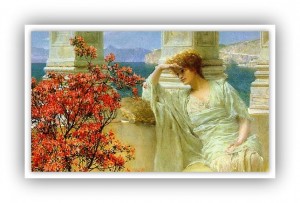 LAWRENCE ALMA-TADEMA 3/4 – His two wives will be his models, his two daughters will have artistic vocation (for writing and painting). His early paintings imbued with romance and emotional intensity, while works of his artistic maturity belong to the current decadent taste, with scenes of life in ancient times. Most of his late paintings, is made of small canvases, where the floral theme is predominant, with details thoroughly exasperating.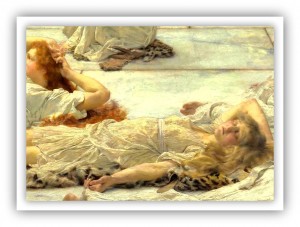 LAWRENCE ALMA-TADEMA 4/4 – In all his paintings, you can see that the light is expressed with a strong focus on the type of illuminated materials (as in many cases, marble and metal). Visiting London, you can remember that he was buried in a crypt in St Paul's Cathedral. You can see more on Meeting Benches, looking for: LAWRENCE ALMA-TADEMA (1836/1912), DUTCH/ENGLISH PAINTER – Painting with deepest feeling the strongest spirit of romance