The entire editorial staff of the Meeting Benches read – several times – what a contributor Vietnamese sent us. Only then, each of us has understood the underlying message, the steps that they did not have words. Yes, from Ho Chi Minh City has survived the value of tenacity, and from Saigon, the smell of pragmatism. Thank Nguyen. For friends who want to contribute: info@meetingbenches.com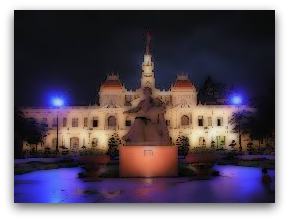 A dinner at Maxim's, to see traditional dances, you could go to the Hotel Rex, but if you do not sleep you can find many bars open where you can chat in French, paying – preferably in dollars – your drinks. No, you're not in France, but in my country, Ho Chi Minh City. Vietnam is almost unrecognizable, believe me. Just twenty years ago, you could see a little boy named Nguyen while playing with his kite. Today, its ultra-light dream does not fly anymore, he became a tour guide and as the Western way. I are him. Nice to have you with me.
Before you begin our little tour (but I hope you come back, stopping for longer), it's good for you to remember some things. As everyone knows, long wars have ravaged my country, until recently. As everyone knows, mine is a tough, pragmatic people. Here, remember these last words, looking at the face of a man, a woman, an old man or a child. All of them, on their face, keep track of what we were. Thanks to the tenacity, the signs of war are gone, and thanks to pragmatism, a hell banknote paper has become very welcome. Everyone smiles, accepting gratuities in US dollars.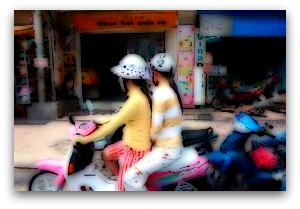 We are walking on the sidewalks of Ho Chi Minh City, the city that until 1975 had a different name, Saigon. The hectic day to all my fellow citizen, flows nicely from a myriad of colonial memories, and our cycle ride slips – now as then – in traffic, to take us to our first destination, the Pagoda of the Heavenly Mother. As you can see, its anthropomorphic statues, the goddess of abundance, are richly dressed. In this second outing, moving in the commercial district of Cholon, we will not stop, and our cycle – taxi will continue until Ho Chi Minh Museum. To know my country, it is necessary for you to know his father.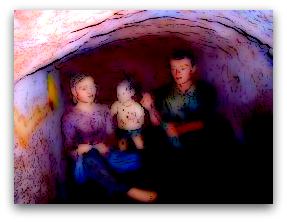 As I promised, this day is dedicated to a dive in the countryside, 40 km from Ho Chi Minh City. Visiting the Cu Chi, you will understand why I wanted to show you – yesterday – the museum of the father of our country. We do not enter all of the 200 kilometers of tunnels dug by the Vietcong, but the few galleries that you observe will be more than adequate to imagine a real underground city. Outdoors, with no need I tell you anything, your eyes will identify the points where the defoliant Americans have left their memories of war.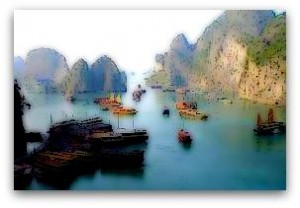 When you start again, you can find (into concierge of your hotel), some of my travel tips. http://www.maxims.com.vn/ , http://www.vietnamtourism.com/ , http://www.halongbaytours.com/ . One thing – more than any other – I want you to remember: the Halong Bay. If you return in Vietnam, 165 km from Hanoi, there is a beautiful bay, with 300 small islands, fantastic scenery where two actors timeless, the wind and the sea, they recited their secular script. Thank you, I do not want no tip, but I beg you, if I come to visit your country, offer you, to me Nguyen, what I have given you.