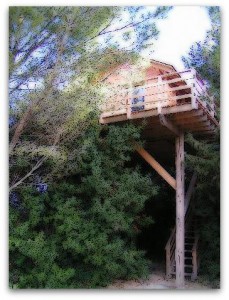 We must get to the Mas du Lion – http://www.masdulion.fr/uk/liens.html  – between 18:00 and 19:30 (obviously we have already booked). After our navigation on the River Rhone, I have the pleasure of staying with you – for a couple of nights – in a really special place and absolutely unusual, living an unforgettable experience, an emotion suspended between heaven and earth. Yes, you've got it right, 4 km from Arles, between the Alpilles and the Camargue we will have a holiday in the countryside and a house on top of a tree. In fact, the choice is varied: bed and breakfast, cottage or caravan, but I beg you to share my idea – for two night of our life –  to remain suspended above a tree.
http://www.masdulion.fr/uk/cabane-perchee.html  , is a small cottage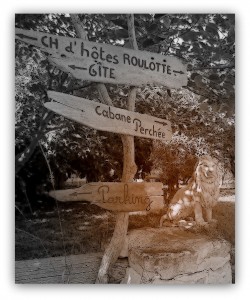 suspended to 5 feet above the ground, a small house to live together an unusual experience. If you are looking for a "home of the heart," I am convinced that the treehouse – equipped with a 140 cm double bed and two bunk beds of 90 cm – is a fantastic experience. Of course we also have our small bathroom with shower and toilet, as well as the kitchen, with sink and refrigerator, hob and coffee machine. No, it is not necessary that we bring dishes and chairs, because the total cost of 240 €, the ones our two nights at the Mais du Lion it's a beautiful destination, in an experience you will not forget.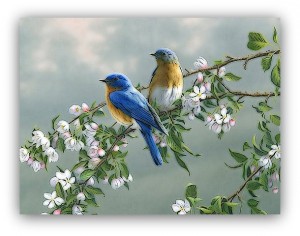 http://www.masdulion.fr/uk/contact.html , contact@masdulion.fr. We meet at 213 Route de Barbegal of Arles (Coste Basse). If necessary, you can write inside your travel notebook, phone number of the Mas du Lion: 06.20663531. For our two dinners at Arles – http://www.tourisme.ville-arles.fr/it/index_it.php  – the advice is to go to the restaurant La Peniche, the Quai Saint-Pierre Quartier trinquetaille. For breakfast suspended on the tree? With an additional expenditure of € 7 – at person – we can eat on the porch, but we will not be alone, because prying eyes watching us from the trees around us: birds, many small birds. Good night. I'll stay a little longer on the porch. No, nor  I do not read the novel Sinkholes, because I've finished reading it. Now I start to read another novel published by Meeting Benches. THE OTHER COUNTRYSIDE.