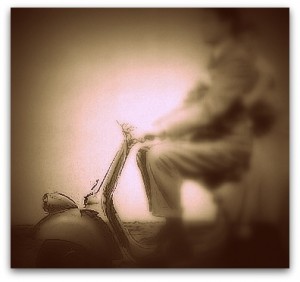 Welcome to my Vespa, traveling to the island of Crete. Of the four seasons of Greece, we walk in the skies of her spring "Anoixi", and its islands tell us the height of their splendor. The spring is that of the Greek dance of the goats, the "Kathari Deutera", which takes place in the month of March in Skyros, or one of the day's work the "Protomagia", that in the month of May offers crowns made ​​with garlic and wild flowers, but also the Easter egg with his loaves and cookies. Obviously, you'll to see the gather the wheat in June, because the sun is hot, but you'll also see the fires of St. James, turned into your dream nights.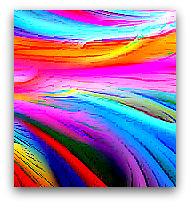 If you go to Greece in the fall, you will be enveloped by the rhythms and flavors of the grape harvest, but if your trip is in October, together with the good old wine, you will savor the little summer of St. Dimitrios. If someone tells you coming home, in the Greek language "Kalò Chimona", he wishes you a "Happy Winter". Perhaps, you do not go to the Greek islands of winter, those enveloped by the strong winds and the sea in a storm, but if you want to spend Christmas there, you do not have to be afraid of goblins, the "Kallikantzaroi", accompanying the Epiphany.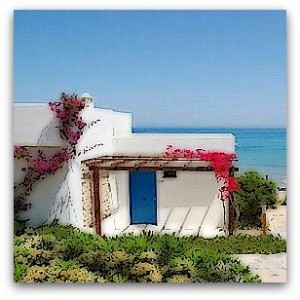 For sleeping, we can go to a hotel or in a "domatia" (a room in rent), but also in self-catering apartments, in one of the many campsites or in a tourist resort. For our payments, we may use cash or credit card, but we must not forget, inside the restaurant, a welcome tip for those who have made ​​our pleasant eating. Each archipelago, of course, has its own culinary identity, but on the island of Crete we can choose fish or meat (do not forget to eat the "Loukoumades", the small fried donuts with honey syrup and cinnamon.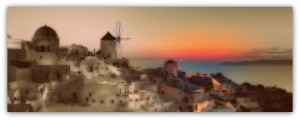 Upon return, will certainly we bring some memories of the land that gave birth to our civilization. Maybe wooden bowls, or a carpet of Crete, one of Anogeia. If you do not have a travel bag, I'm sure you can find your own, among the many that are waiting for you and will accompany you on your next trip. If you need more information, I recommend  www.visitgreece.gr  but you can call us at 210.510.2813, the office in Athens. For your electrical equipment, do not forget a plug adapter with two contacts, but do not be shocked if – in some toilet – you have to put the toilet paper in a trash can, but not in water. Yes, water is a precious commodity, where the sun is hot.
Hello, good morning, good evening. How are you? Bon appetite. I love you. I hope you come back. Geia sas, kaliméra, kalispera. Pós Eisai? Kalí Orexi. S 'Agapo. Elpízo na epanéltho