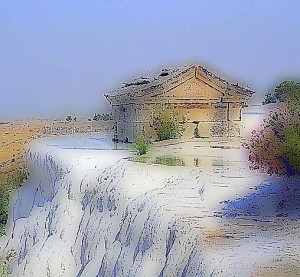 No, it is not a castle of cotton, you're with me, in Pamukkale, Turkey in the south-west, but if you want we can call this place by its old name: Hierapolis, the ancient Roman city, the one where earthquakes have produced countless, but also a benefit: the birth of the hot springs, where the water-rich limestones has painted the mountain of white. Pamukkale is now a UNESCO Heritage Site, but in the recent past some hotels were built on the site of the old destroying Hierapolis, the hot water was channeled in the pools of the hotel was in the middle of a paved road to the site, and thousands of tourists washed in tubs limestone using industrial cleaners.
For centuries, people have used these hot springs with curative intent, and spa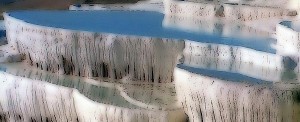 facilities that you are looking at are the ones where you can relax, along with my two old friends: health and beauty, the ones that I had already known, in this place, twenty years ago. Just as you have seen, the true lord of these springs is the white limestone where now we are walking barefoot. I advise you to use caution walking in the enchantment of this white liquid, because the temperature of the water is variable, from 35 to 100 degrees.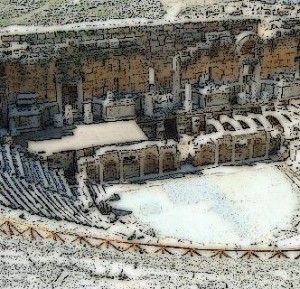 I thank you for coming with me, in Pamukkale, and I would also be happy to accompany you in the "holy city", in Hierapolis. What you observe is what remains of the ancient Roman city – one that was built on the ruins of the Greek city – after a catastrophic earthquake in 60 AD. Just twenty years later, the city had received a visit from one of the twelve apostles of Jesus the Nazarene, and together we can also see the tomb of the man named Philip. I'm sure you will not forget the avenue Frontinus, the Agora, Byzantine Gate of the North and the South Byzantine Gate, the Gymnasium and the Triton Fountain, the House of Ionic Capital and the latrine, the Nympheum and theater.

It is done at night, and we are next to the ancient necropolis, where many lives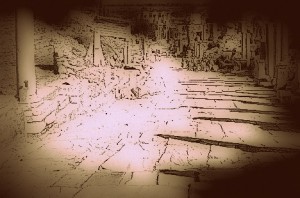 have waned, embraced by the identical pink at this time is reflected in identical white of an ancient time, the one that has never lost its charm. Goodbye, remember the Castle of cotton.