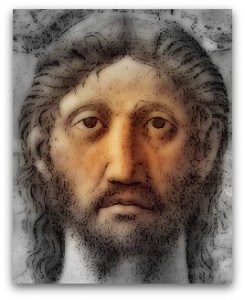 Come back to life after death. Waking after sleep. Start an experience, away from another. This is the reason why you're with me today within the walls of an ancient small town in Central Italy. We are in Sansepolcro, a magical place where a painter has succeeded in his aim, to make come back to life for all human beings who have eyes to see, the memory of a man believed to be dead. What I will accompany you to see, is not just a fresco, but the visual expression of the passage of time which we call "life", our human experience.
Sansepolcro is an Italian city of Tuscany, where one was born around 1412, Piero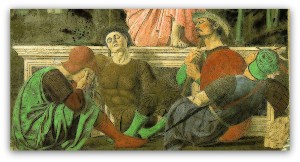 della Francesca, the painter and humanist who was able to give us, with only one image, the value and substance of the time. Before our eyes, in three dimensions, and wrapping theological concepts and aesthetic needs, the rigor of pictorial perspective merges with the solemnity of gestures and looks, visually telling human experiences of those who, being born before us, had begun his experience human, what to Piero della Francesca had ended in 1492.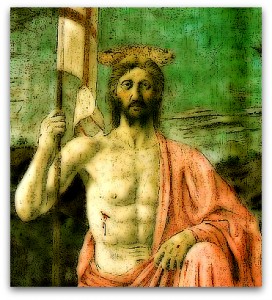 His characters still live, before our eyes, wrapped in wonderful use of light, one that seems to have the nuances of nature and all the colors of feelings, in a timeless time, the one where a single gesture is a return to life, one where a look embodies the meaning of awakening. Piero della Francesca had seen the opulence of the Italian courts, visiting and working in Urbino and Ferrara, Rome, Florence and Rimini, but what we are observing in the small Museo Civico of Sansepolcro, it appears to contain all the solemnity of his travels, together the awesome majesty of the events and people who had gone through life Piero.
We look at two columns and four sleeping soldiers, while a man back to life after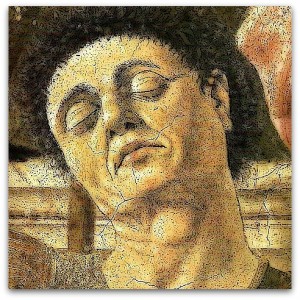 his death. Our eyes admire, to the sides of the resurrection, a landscape that dies and one who is born again, and they wrap around a sarcophagus, while in the background a sunrise seems to pulsate around small clouds. Some say that the head of one of the sleeping soldiers, one leaning on the tomb, whether it be a self-portrait of Peter, a man like us, able to assign colors to emotions and the human experience, one that we observe with astonishment once time, before you turn away from a room to go to a different room without walls, to our daily lives.