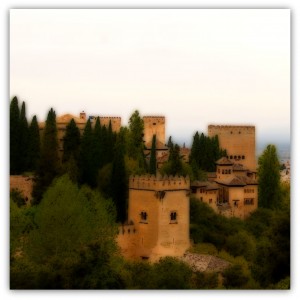 No, waiting for us in this city there will be no Federico Garcia Lorca, and even Eugenia de Montijo, although the memory of the Spanish poet and the one of the last empress of France, still lives inside the Alhambra and the Generalife, in Albacin and in the cathedral church of this city so mysterious and fascinating.
It's true, we arranged to meet

on April 20 in Seville, but even if tonight is a little advanced, and even if you're not expecting me, I'm here to accompany you in Granada. This will be a walk on a spring night, under a starry sky illuminated by the rising moon, without the fear of rain that Sierra Nevada takes it away, but both of us will wear something to protect us from the strong temperature, typical of these places.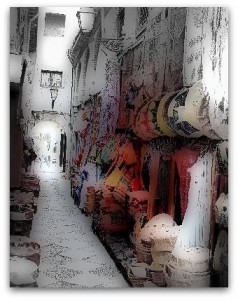 Close to two rivers and two religions, this Spanish city will give you a particular intimate vibration, and we will walk in the old streets of the capital of Andalusia. We do not meet the Sultan Abu Abd Allah, nor Isabella of Castile and Ferdinand of Aragon, but we realize that the year 1492 is as crystallized in the red walls of the Alhambra. Sure, it was a fortress with 300 towers, but also a royal palace surrounded by amazing gardens.
The intimate vibe that this place gives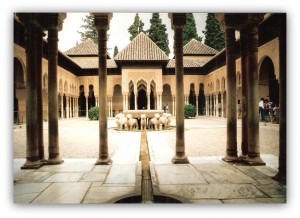 us, it is also the result of the many geometrical arabesque decoration, but also by the twelve stone lions, those in the center of the old harem. This evening, we will not have time to visit the old quarter of Albacin, the one across the river Darro, nor can we continue our visit to the Generalife, as some believe – and I am one of them – that remain to observe the sky starry, one above the Alhambra, we will have already filled our eyes with wonder.