ANTONIO PUCCI: WOMAN
From the diary-illustrated atlas TRAVEL IN ITALY e-book format published by Benches Meeting from March 20, 2014 in Italian and English language versions, a poem and a picture of Antonio Pucci, the Florentine Renaissance poet: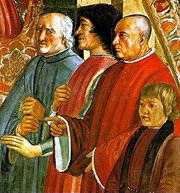 The female makes a man live happy,
and men do nothing without them.
Sad is the house where they are not,
however, that without them you will barely.
For each fault that there are a hundred,
that by virtue of great value go.
When you are dressed in beautiful cloth,
is our honor, their adornment.
But people keep them even with beatings,
and without blame everyone seems to move,
to blaspheme who led him into the house.
This takes a huge dowry, which is not worth three eggs.
Then regrets that it was reduced,
and as much as she loves her new.
Because he takes advantage of them.
Against whom do you say evil without fail,
that is to protect the foot and on horseback.