AGNOLO POLIZIANO: One fine morning.
From the diary-illustrated atlas TRAVEL IN ITALY, published by Meeting Benches (e-book format, English and Italian versions), Its own page with a picture and a poem by Agnolo Poliziano.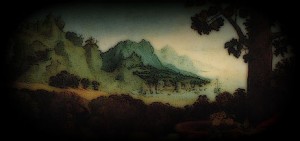 I found myself, maidens, one fine morning.
But then I had a strip full of flowers,
I saw the roses and not just a color:
I I took the time to fill all the womb,
because it was so sweet smell them
I felt that everything I awaken the heart
sweet will and pleasure of God.