LIKE MARCO POLO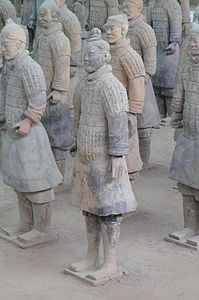 I do not have embarked on my trip to China such as Marco Polo in 1271, but in 1992. Obviously I have not given any letter to Kublai Khan, but as Nicholas and Matteo Polo, I made a detour inland, visiting a very special place, Xi'an (Shaanxi Province), where he was waiting for an entire deployed terracotta army consists of 8,000 warriors, chariots and horses.
The archaeological site was discovered accidentally in 1974 by a farmer. According to the Chinese historiography. 700,000 prisoners realized that funerary complex in the course of ten years.
As any man of our times, even then there were our fellows in search of immortality, using mercury sulfide.
For those who do not have time to go to China, until 17 November 2013, some of those original pieces will be on display in the History Museum of Bern. A little emotion, sure, but a first step to desire for a second: go to China.