First Australian Aboriginal artist to receive acclaim from the white community.
With a cultural heritage going back 50,000 years, before European settlement there were almost 600 different Aboriginal nations within Australia. He it is remembered as an artist whose treatment highlighted the inequalities of Australian society. In both the indigenous and European communities, his Western style has earned him detractors. His work still shows the spirit of the land, because there is a sense that it is alive, that it is talking back to you. His realist landscapes are very different to the symbolic work produced by nearly every other school of indigenous art. Born in 1902 in the Hermannsburg Lutheran Mission near Alice Springs https://artsearch.nga.gov.au/detail.cfm?irn=103868, ALBERT NAMATJIRA he saw his first European painting at an exhibition there in 1934, where one of the exhibitors showed him how to paint.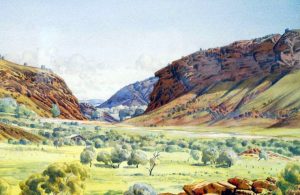 He died in 1959 aged 57. Yet despite being one of Australia's most popular artists, he experienced years of poverty. The story of ALBERT NAMATJIRA is extraordinary, and his artistic legacy lives on through his descendants and followers. His landscape paintings are some of the best known (and best loved) of all works of Australian artists. He found fame as an artist, became wealthy, met a Queen. The change in status gave him the legal right to drink alcohol but not to share it with other Aborigines.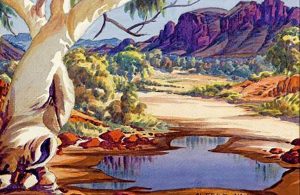 In the Central Australian desert, you can find one of the harshest environments in the world. Here, in accordance with his parents customs (of the Aranda people), their son ALBERT NAMATJIA had remain unnamed, until was old enough to appreciate the significance of his given name, at the age of 13, when he disappeared for months. The elders of his tribal group took him to distant grounds, to be initiate into manhood. A more recent assessment of his work was published in The Age (a Melbourne newspaper), on July 11, 1984, after a retrospective exhibition of his work opened the Araluen Arts Centre, in Alice Springs, situated in the geographic center of Australia.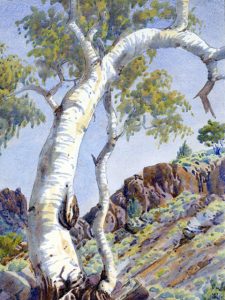 Its original inhabitants, who have lived in the Central Australian desert for thousands of years, know the site as Mparntwe. Outback & Rainforest Tours from Alice Springs? 1 Day Emu Run Uluru Experience https://www.outbackfree.com.au/outback-tour/1-day-emu-run-uluru-experience-from-alice-springs/
The property of the images that appear in this blog correspond to their authors. The sole purpose of this site is to spread the knowledge of these artists and that other people enjoy their works. To pursue this issue, you can digit: https://www.youtube.com/watch?v=LsUzj-3TNbM