When creativity also smells like boiled donuts.
Observing the artistic creativity of the inhabitants of a certain terrestrial latitude and longitude (made up of books and poems, songs and paintings), it is useful to tune emotionally to their culture. In ancient communities the word "culture" originally indicated the cultivation of the soil, but with the passing of time it assumed the meaning of refinement of the spirit.Then, when you decide to visit a country, we advise you to also know the fruits of the earth, sniffing and eating its typical local products.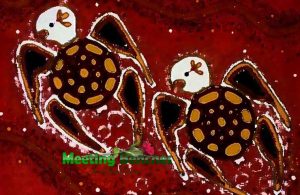 Reading a few poems by Kaye Aldenhoven, our "Australian journey" begins with the aboriginal rock art on the island of Grote Eylandt. Along the way, towards Brisbane, we will listen to the music of Dami Im, without forgetting to go to the Bagel Boys, where to taste its delicious boiled donuts. Our third trip will take us to Warrandyte, where we will stop at Bertha's Cottage, admiring the landscapes painted by Clara Southern. Arriving in Geelong we will give a little relaxation in Adventure Park, observing the sea of the writer Helen Garner, who was born here. Hahndorf (our final destination) will remain in our memories with the flavors of Haus Restaurant, Hans Heysen Art Studio and Nora Haysen's paintings.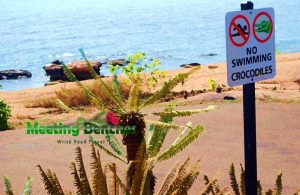 Welcome in Groote Eylandt. The island has until recently been open, because the local Aboriginal Land Council did not encourage tourism, but there is now a resort style hotel on the island and visitors are welcome. Groote Eylandt is the largest island in the Gulf of Carpentaria, and it's part of the Arnhem Land Aboriginal Reserve. The island is becoming renowned for its fine Aboriginal rock art sites and outstanding sport-fishing. About its notable people, Norman Tindale (anthropologist and ethnologist), David Warren (inventor of the flight data recorder) and poet Kaye Aldenhoven.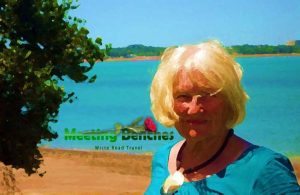 She has read her poems on ABC radio, and has collaborated on projects with visual artists. She has travelled in Indonesia and India, China, West Papua and Nepal. Poetically, she eschews decorative language, choising for a clear diction to illuminate her themes. In 1992, she won the Northern Territory Red Earth Literary Award. She lived and taught at Yuendumu and Amoonguna, Alice Springs and Darwin. In 1971 KAYE ALDENHOVEN moved to Umbakumba (on Groote Eylandt, Northern Territory). She is an Australian poet and teacher, and one of her book explores the conundrum of living in country. She is passionate about family and her garden, Northern Territory history and poetry. Her's book Botanica Erotica, is an exploration of love and six, family, country, history and pain that persists through generations.
Brisbane is located in the county of Stanley. This town offers you a discovery in every direction, with over 1000 stores, including the largest range of flagship boutiques in Queensland. The best of the City's food scene? The Bagel Boys (Adelaide St), http://thebagelboys.com.au/ it's specialise in traditional kettle boiled bagels that are mixed and baked fresh every single day. Here, you can choose from 11 different flavours (including poppy seed, sesame seed, soy and linseed, onion, garlic and jalapeno). Don't forget: these bagels are guaranteed to revive your lunchtime tastebuds. Your Brisbane's shopping? Elizabeth Street is a special destination (for all styles and budgets). Lovers of luxury can go to international designers available at Xile and Elio Moda, but the precinct also show an array of fashion-forward boutiques (including Culture Kings and Scotch & Soda).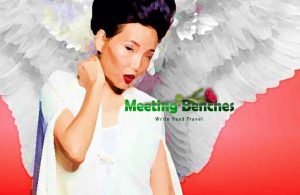 She takes us on a journey that encapsulates homage and re-inven. At age of the nine, she emigrated to Australia from South Korea with her family. Her Korean parents had moved to Brisbane (Queensland). She attended several schools and colleges to learn music. First of all, she attended Griffin University in Australia. There, she studied music at 'Young Conservatorium of Music' program. She won the fifth season of The X Factor Australia. DAMI IM (born into a October, 1988), http://www.damiim.com/bio/ is a Australian singer-songwriter, multi-instrumentalist performing artist. She became the first X Factor Australia contestant to follow up a number one single, with a number one album on the ARIA Charts. Her's third studio album, released in 2014 became her second top-ten album.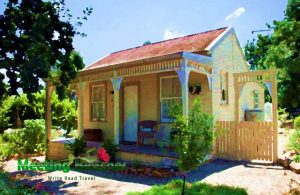 All it began during the latter years of the 19th century, when many Australian landscape painters sought out areas close to Melbourne, in which to paint the Australian bush. Among them, landscape artist Clara Southern. With her husband they settled in cottage 'Blythe Bank', just on the hill above a river. From that distant time, Warrandyte has also become famous as a tourist destination. Here she lived when life was not easy for a woman that was a real pioneer of our past. The name 'Bertha's Cottage' comes from that original tenant who lived in the cottage, from 1924 until her death in 1979. Her new home lord look forward to welcoming you, to enjoy Bertha's Cottage (335 Warrandyte-Ringwood Rd, Warrandyte, VIC – 3113).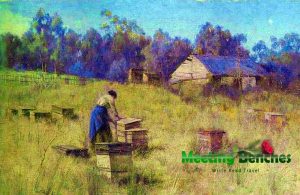 In 1907, landscapes of this beauty with reddish fair hair were awarded a prize in the fine arts section of the Australian Exhibition of Women's Work. She was born on a October day at Kyneton (Victoria). Third child of a farmer, CLARA SOUTHERN attended the Minerva Academy for girls, showing special aptitude for drawing. She also enrolled in Melbourne at Madame Mouchette's studio and during four years studied at the National Gallery School in Melbourne.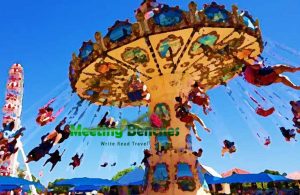 Adventure Park https://www.youtube.com/watch?v=fb7Qhg8NGKg is Victoria's water theme park with many attractions (such as numerous water slides and water playgrounds). Its Bonito's Bay Water Play area? Is an interactive Caribbean Pirate Adventure, that includes waterfalls and water jets. Dine in a wide variety of restaurants, or make a quick stop over on your way to the Great Ocean Road. We suggest your accommodation in Geelong, where you can relax on the Waterfront. Under this sky was born famous writer Helen Garner.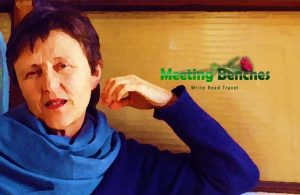 From the beginning of her writing career, she was regarded as a stylist and a feminist. She came to prominence at a time when Australian women writers were considered a novelty. Her novels are never entirely fiction and her non-fiction is never only about crime. In her 2014 book This House of Grief, an Australian writer documented Farquharson's trial and subsequent conviction, writing dissections of an author's own thoughts, and ours as well. HELEN GARNER was born in Geelong (Victoria) into a November day, 1942. She is an Australian novelist and journalist. Her's first novel was published in 1977. She is known adapting her personal experiences in her fiction (such as into The Spare Room).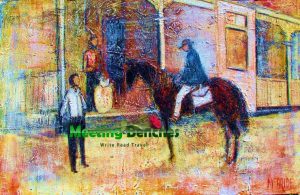 It's one of the most popular restaurants in Hahndorf. The Haus Restaurant, you showcases an selection of dishes created from the in local produce (which changes with the seasons). http://www.haushahndorf.com.au/ You too can enjoy theyr friendly service, also enjoy one of theyr tempting pastries. Here you can visit the Hans Heysen Art Studio http://www.hansheysen.com.au/hans%20studio/studio_hans.html the oldest artist's studio in Australia (just a 5 minute stroll from The Cedars shop).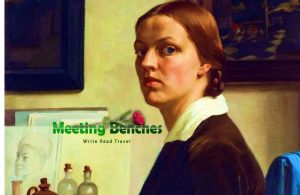 She was born in Hahndorf (South Australia) in a January day, becoming an Australian artist, the first woman to win the prestigious Archibald Prize in 1938 for portraiture. That fourth child of Hans and Selma Heysen inherited an interest in painting. In her teens, NORA HEYSEN studied at the School of Fine Arts in North Adelaide. Once the war began she did some volunteer work and in 1943 she was appointed an official war artist, to depict the women working at everything they did. She went to London to continue her studies, alsotravelling throughout Europe. Coming home, she moved to Sydney.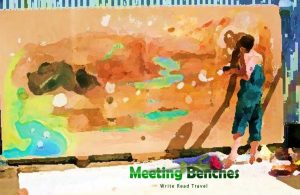 The intellectual property of the images that appear in this blog correspond to their authors. The sole purpose of this site, is to spread the knowledge of these artists and that other people enjoy their works. To pursue this issue, you can digit: http://meetingbenches.com/2018/04/become-inspired-to-travel-to-australia-discover-fantastic-things-to-do-and-places-to-go-only-into-twenty-pictures/