The charm of nature and amazement of human creativity
Our Australian art itinerary starts at Cowaramup. The small town retains much of the character of its agricultural heritage, but has been rebuilt as a home to a wide range of typical local produce. https://www.margaretriver.com/towns/cowaramup/ You can enjoy a delicious meal in the Udderly Cafe. In this town in southwestern Australia, in Holmes a Court Collection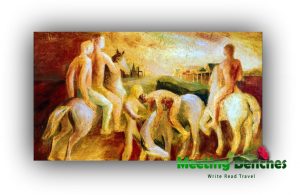 http://www.holmesacourtgallery.com.au/ are on display some of significant works of DONALD FRIEND, 20th century painter, cartoonist and author. He was born in Sydney. His diaries show his determination to become an artist. After the war he with Russell Drysdale discovered the mining area of Hill End, a village, which became a colony of artists.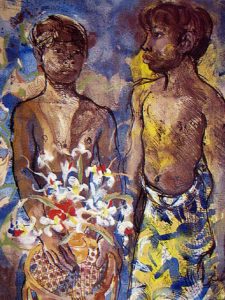 Hill End https://www.nationalparks.nsw.gov.au/visit-a-park/parks/hill-end-historic-site is a former gold mining town in New South Wales. Today, the Hill End artists' program aims to ensure the continuity of this connection. Except from landscapes, Donald Friend admired handsome young men, and was besotted with the idea of drawing them. In the mid-1960s, he was one of the two finest draughtsmen of the nude in Australia. Much of his life he spent out of Australia, in Nigeria and Italy, Ceylon and Bali. In Canberra, visiting the National Gallery of Australia, you will be able to admire some of his paintings.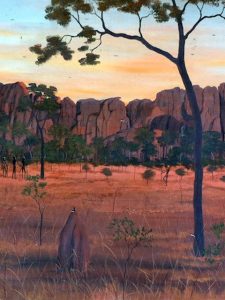 PERCY TREZISE was a painter and writer, historian and documentary of aboriginal rock art. He was born in Tallangatta (Victoria), but his person is associated with the Far North Queensland area and the art galleries of the Cape York peninsula. With the Aboriginal artist Dick Roughsey he collaborated with a series of children's books. You can see two of his paintings in a Cairns art gallery. At Cairn expect a tropical vacation, where you can relax in the pool of a resort or spend the day exploring the Great Barrier Reef. Indigenous people called the largest island in the Family Islands National Park – Coonanglebah, "the island of peace and abundance." https://www.npsr.qld.gov.au/parks/family-islands/ Dunk Island is a spectacular island of tropical rainforest. You can also try rafting on the Barron River http://www.cairnsrafting.com.au/barron-river-rafting/ or on the Tully River.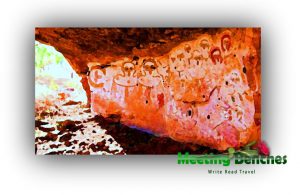 This north Queensland town also offers you local and organic products, trendy cafes and bars as well as relaxed people. Quinkan Galleries Rock Art https://www.quinkancc.com.au/rock-art-sites-tours can be a small tour, but there are many fantastic paintings, where you can make all the photos you want in this really great place.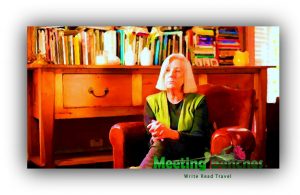 JUDITH WRIGHT was born in Armidale, spending his youth in Brisbane and Sydney, where grew her interest in Aboriginal reality. She has written numerous poems and letters in her life, influenced with the the places, where she lived, such as the forests of Mount Tamborine.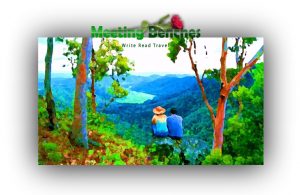 Tamborine Mountain https://www.npsr.qld.gov.au/parks/tamborine/about.html is about 80km south of Brisbane. Today the park consists of 14 sections of land, the Tambourine plateau and the surrounding hills, offering you many opportunities to explore and enjoy the surrounding nature, such as walking, picnics or horseback riding. As a writer, her mission was to connect the human experience to the natural world. For her, a poet needs to be interested also in social problems. In June 2000, she died in Canberra.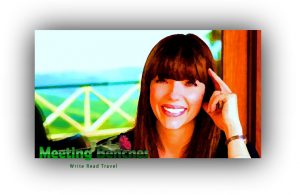 KATE MORTON's books have been published in 31 states. She is very attracted to contemporary novels combining Gothic and mystery elements. Born in Queensland in 1976, she moved many times with her family until they settled in Tamborine Mountain.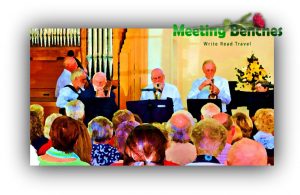 Since 1974 a group of fans had conducted fundraising activities to bring TAMBORINE MOUNTAIN ORCHESTRA into life. Their purpose is to enjoy music with others in a friendly environment, performing public concerts, where anybody can join and play with them.
Just 1 hour from Brisbane and 30 minutes from the Gold Coast, located at the top of the Tambourine Mountain, we invite you to stay in Bed & Breakfast (Eagle heights QLD 4271), which is totally immersed in the Gold Coast Hinterland.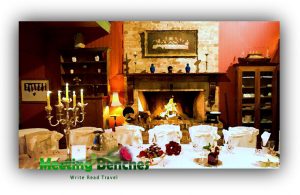 Where to eat? Heritage Wines restaurant (Corner Shelf Road and Bartle Road, Mount Tamborine QLD 4272), https://www.theheritage.net.au/, where you will also find Heritage Gallery offering you contemporary quality art. Its schedule changes regularly with appointments aimed at capturing the essence of Australia.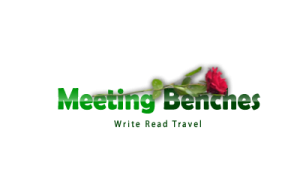 The intellectual property of the images that appear in this blog correspond to their authors. The sole purpose of this site, is to spread the knowledge of these artists and that other people enjoy their works. To pursue this issue, you can digit: http://meetingbenches.com/2017/11/art-itineraries-images-australian-journey/