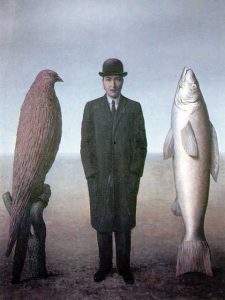 OBSERVING THE WORLD WITH DIFFERENT EYES
RENE' MAGRITTE 1/3 – When the baby named René was born in Lessines (a small Belgian town) his parents could not imagine he became "quiet saboteur" because of his ability to insist on real realities through the pictorial representation of the real his own. The intention of his work was to allude to everything as a mystery without defining it. In Belgium, he is considered the greatest exponent of surrealism. After initial Cubism experiments his style focused on the use of trompe l'oeil, a kind of painting, in which the concreteness of representation generates the illusion of reality.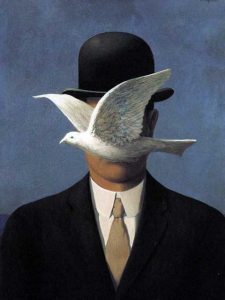 RENE' MAGRITTE 2/3 – His father was a tailor. His mother was found drowned in the river Sambre, and her head was wrapped in her nightgown (a particular recurring in some of Magritte's paintings). After classical studies he approached painting, enrolled at the Academy of Fine Arts in Brussels. Moving his artistic interests in the avant-garde of the twentieth century, he made his approach to Surrealism with the discovery of the work of Italian painter Giorgio de Chirico. Gradually, he realized, what he painted was not reality, but the creation of a new reality. This will stimulated him to create something more real in the same reality.
https://www.youtube.com/watch?v=bpD0F9hpd68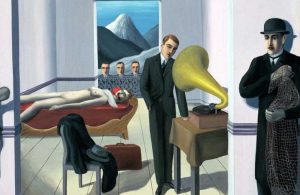 RENE' MAGRITTE 3/3 – After the Paris experience, he returned with his wife to Brussels in 1930. Every Saturday evening his 135-rooms apartment at Jette's rue Esseghem (now converted into museum), served as a meeting point for the surrealist group in Bruxelles. When you are in Brussels, do not forget to visit the Magritte Museum http://www.magrittemuseum.be/en/00_home_en.php Because of fear of German occupation, he moved to southern France in 1940. Shortly after the appearance of a serious illness, he died in Brussels in 1967 and was buried in the Schaerbeek cemetery https://visit.brussels/en/place/Schaerbeek-cemetery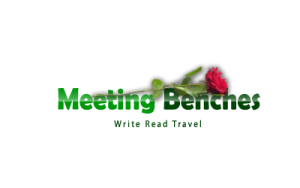 The intellectual property of the images that appear in this blog correspond to their authors. The sole purpose of this site, is to spread the knowledge of these artists and that other people enjoy their works. To pursue this issue, you can digit: http://meetingbenches.com/2017/08/travelling-belgium-around-rene-magritte/