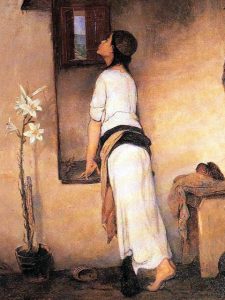 THE ARTISTIC WHOLENESS
NIKIPHOROS LYTRAS 1/4 –He was one of the most important exponents of painting, design and fine arts in Greece. His works represent Greek daily life with kindness, spirituality and simplicity. Https://www.youtube.com/watch?v=R1-bnxfKsEI He was born in the village of Pyrgos at Tinos, and the teacher in the village school was surprised watching him drawing during the lesson, without ever being taught to paint.
NIKIPHOROS LYTRAS 2/4 – In 1860 he won a government scholarship, deepening his studies at the Academy of Fine Arts in Munich, where he continued his studies with a patron. During this period he visited many art galleries, museums and villages of Bavaria. He focused on painting history. After graduating, he returned to Greece in 1866 and became a painting professor at the art institute.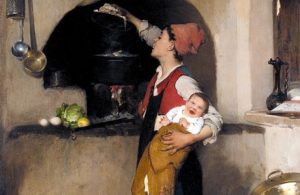 NIKIPHOROS LYTRAS 3/4 – His subjects were inspired by mythology and Greek history. He began painting portraits and every day life scenes. He traveled to Smyrna and Munich, Paris and Egypt, marrying in 1879 with the daughter of a merchant in Smyrna. Even one of his sons (Nikolaos), became a painter. During his career as a painter, he was recognized as a great artist. The explosion of the flagship of Nasuh Ali Pasha (143×109 cm) is his stunning painting, which is on display in the Averoff Gallery, Metsovo http://www.mcc.gr/metsovo/ArtGallery.htm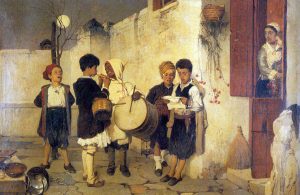 NIKIPHOROS LYTRAS 4/4 – His paintings on everyday life, with stubborn children and other elements of Anatolia, correspond to the ideology of the ruling class of the times. In the last period of his life, he preferred to paint scenes of solitude and fear of death. Until 1904, the year of his death, he remained in charge at the School of Fine Arts in Athens, but after a short illness (inhalation of toxic fumes from chemicals in his paints) he was replaced by one of his students. To admire his painting "Antigone in front of the dead Polynices", visit the National Art Gallery and Alexander Soutzos Museum http://www.europeana-inside.eu/national_gallery_a_alexandros_soutzos_museum.htm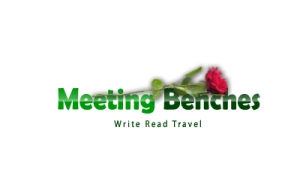 The intellectual property of the images that appear in this blog correspond to their authors. The sole purpose of this site, is to spread the knowledge of these artists and that other people enjoy their works. To pursue this issue, you can digit: http://meetingbenches.com/2017/08/greek-creative-journey/