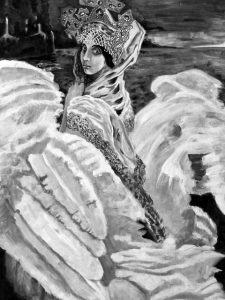 MIKHAIL VRUBEL 1/3 – He is author of many masterpieces of pictorial art and also one of the most tragic figures among Russian painters. Https://www.youtube.com/watch?v=m2XY57RhaiY The man who became the promoter of new modern style in Russia was born in Omsk http://www.kolejtranssyberyjska.pl/en/omsk-tourist-information and completed his studies with very high scores. Between 1867 and 1869 he attended the art school in St. Petersburg, http://www.saint-petersburg.com/ and also concluded jurisprudence studies in 1879. The following year, listening his own intimate vocation, he met renowned Russian painter Repin, from whom he took private lessons. In 1884 he started his stay in Italy, learning about the secrets of Renaissance painting. Most of his works painted in Venice have been lost, because the artist was more interested in creative process than in promoting his artwork.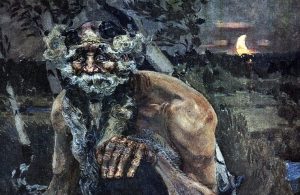 MIKHAIL VRUBEL 2/3 – He was a painter and graphic designer, but he excelled also in applied arts, such as ceramics, majolics, and stained glass. His second creative period in Moscow, https://www.mos.ru/en/ began in 1890, with the painting "The Seated Demon", an artistic season that ended with his hospitalization in a mental clinic. In 1896 he got married a young lyric singer, and based on this, two of his masterpieces were born : "The Fantasy Princess" and the "Fausto and Mephisto Flight" panel.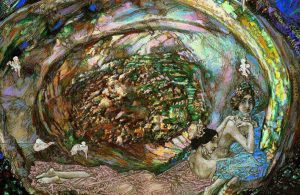 MIKHAIL VRUBEL 3/3 – From 1903 to 1906, he matured to the third season of his artistic activity, where he fought with his mental illness even more. In psychiatric clinic he suffered with strange hallucinations. His world sought into the darkness of mind, his lost his visions, but this forced him to complete his last painting with the help of the touch. In the Galleria Tretyakov in Moscow https://www.tretyakovgallery.ru/en/ (which hosts the largest collection of fine Russian art), you can admire one of the masterpieces of this painter, "The demon sitting in the garden", made in 1890.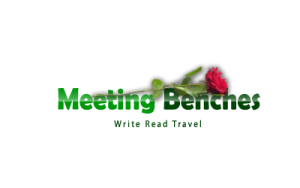 The intellectual property of the images that appear in this blog correspond to their authors. The sole purpose of this site, is to spread the knowledge of these artists and that other people enjoy their works. To pursue this issue, you can digit: http://meetingbenches.com/2017/08/russian-art-tones/