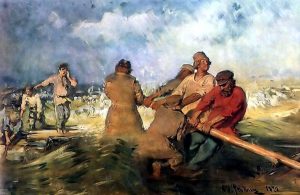 ILYA YEFIMOVIC REPIN 1/3 – In the second half of the nineteenth century, he was one of the major representatives of Russian art culture. He learned the rudiments of painting at an icon painter, then studying at the Academy of Fine Arts in St. Petersburg and traveling to France (where he met Édouard Manet, confronting Impressionism) and also in Italy. In his paintings he illustrated a dramatic representation of Russian society with veins of national romance. Looking at his paintings at historical level, you can admire their disruptive strength, but you can also look at marvelous intimist portraits.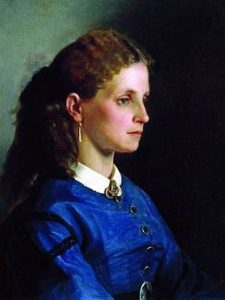 ILYA YEFIMOVIC REPIN 2/3 – Together with Russian landscapers Vasilev and Polenov, he had adopted the French painting model, repropping original with national shades. In 1885 he completed one of his most psychologically intense paintings: Ivan the Terrible and his Son. One of his most complex paintings (the Cossack Response to Sultan Mehmed IV) occupied many years of his life. In memory of his humble origin he developed art exhibitions of art, in order to acquaint himself with pictorial aesthetics even in the countryside. This man, who was born in Ukraine in 1844, had been part of the group of painters, who advocated a veritable art. He thought, that there should also be some, who comfort lives of workers, because with their art they had a task to fulfill.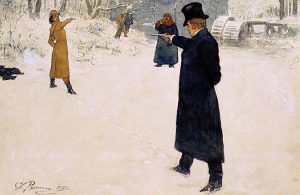 ILYA YEFIMOVIC REPIN 3/3 – Within his works you can clearly reveal the composition, light and color reflect of European painting. The Volga boat conveyors (currently visible at the Russian Museum of St. Petersburg) had been his first great success. That masterpiece of art – moving condemnation to those, who allow such inhuman work – expresses man's dignity and strength. What Tolstoy was for Russian literature, Repin was for Russian painting.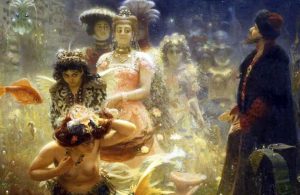 The intellectual property of the images that appear in this blog correspond to their authors. The sole purpose of this site, is to spread the knowledge of these painters and that other people enjoy their works. To pursue this issue, you can digit: http://meetingbenches.com/2017/05/ilya-yefimovic-repin-18441930-russian-painter-unsurpassed-portraiture-depicted-subjects/