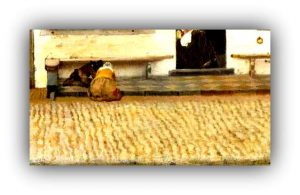 Although one passageway remains, the original houses are long gone. In their place you can see numbers 40 and 42 Vlamingstraat, built in the 19th century. Vermeer's aunt Roentgen Claes, lived in the house at the right, with her children, until her death in 1670. https://www.rijksmuseum.nl/en/collection/SK-A-2860 The provenance of The Little Street, is not in doubt, having been documented from its first appearance (in the Amsterdam sale of 1696).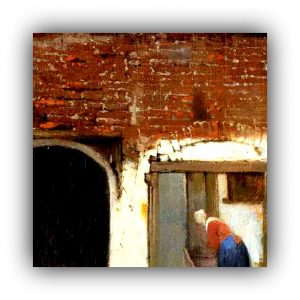 The painting is made in oil on canvas, and it is a relatively small painting (being 54.3 centimetres high by 44.0 centimetres wide). This is an unusual painting for its time, because it's a portrait of ordinary houses. It was 350 years ago, since Johannes Vermeer captured the everyday 17th-century Delft scene of The Little Street.
What you can admire https://www.rijksmuseum.nl/en it's a typical aspect of the life in a Dutch Golden Age: a town, a quiet street. Maybe, he has taken various details from various houses. Why? To make us believe we are looking at an actual streetscape. Of views of Delft. It is one of three Vermeer paintings. The painting is a moment which would have slipped away: children entranced by their game and women busy with their chores.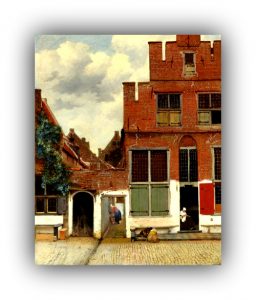 This is the Vermeer's gift for us: doors and window open, air wafting through the house, and clouds filtering the sunlight. You too, surely, you remain astonished observing walls, stones and brickwork: all almost palpable. The location? It's in Vlamingstraat 40/42, in Delft. https://www.youtube.com/watch?v=DEior-0inxU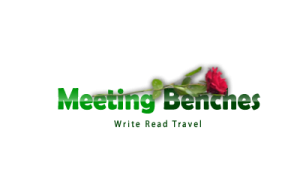 To pursue this issue, you can also read:
http://meetingbenches.com/2016/12/johannes-vermeer-16321675-dutch-painter-painting-women-streets-dutch-golden-age/
http://meetingbenches.com/2016/12/small-heritage-full-light-johannes-vermeer-new-forms-capturing-light/
http://meetingbenches.com/2016/12/seven-times-stop-collect-eleven-shades-wonder/