JASON deCAIRES TAYLOR 1/4 – was born in 1974 in Dover, United Kingdom. He was the only son of an English father and Guyanese mother. He grew up in Europe and Asia. He spent much of his early childhood exploring the coral reefs. Further he studied at Camberwell College of Arts, Institute of London, where he graduated in 1998 with a B.A Honours degree in Sculpture and Ceramics.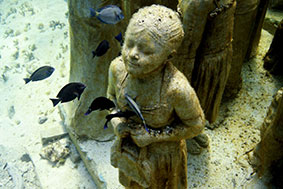 JASON deCAIRES TAYLOR 2/4 – He also become a fully qualified diving instructor and underwater naturalist. With over 20 years diving experience, Taylor is also an award winning underwater photographer, famous for his dramatic images, which capture the metamorphosing effects of the ocean on his evolving sculptures.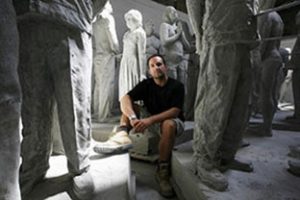 JASON deCAIRESTAYLOR 3/4  – In 2006, Taylor founded and created the world's first underwater sculpture park. Situated off the west coast of Grenada in the West Indies it is now listed as one of the Top 25 Wonders of the World by National Geographic. Following on in 2009 he co-founded MUSA (Museo Subacuático de Arte), a monumental museum with a collection of over 500 of his sculptural works, submerged off the coast of Cancun, Mexico; described by Forbes as one of the world's most unique travel destinations. By the end of 2013, Taylor had placed nearly 700 sculptures around the globe. Works completed in 2014 include Ocean Atlas, located in the Bahamas, the largest single underwater sculpture in the world at 5 metres tall and weighing 60 tons.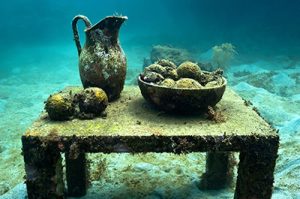 JASON deCAIRES TAYLOR 4/4 – Working alongside marine biologists, Taylor uses resilient, stable and environmentally responsive materials. He integrates a coral promoting neutral pH cement. These underwater artificial coral reefs installations divert tourists away from natural coral reefs that are already suffering effects from marine pollution, global warming, hurricane damage and over-fishing, thus providing the opportunity for the natural reefs' rehabilitation.
For complete gallery of underwater sculptures click here :
http://meetingbenches.com/2016/12/jason-decaires-t…water-sculptures/