………………………………. They had left Cesena some time before and the sun indicated the south, warming the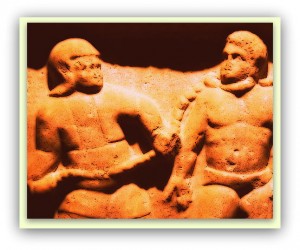 Via Emilia that was in that moment crowded: a procession of pockmarked lepers with festering sores was passing procession of ragged men with hands in stocks and joined together by a long chain. They were monitored by guards on horseback in the service of the Pope and looked like beggars, but their skin was too dark to be locals. At a sign from his master Angiolello dug his spurs into his horse's flanks and started to gallop toward what appeared commander of the escort. They saw him gesticulate and talk with the knight who was pointing with his arm towards the south.
Having collected the information, the squire returned, he told them that according to the cavalryman they were gypsies, "A gang of rootless people full of cruelty, who do not live as Christians and are devoted to the superstitions and rituals of a reprehensible life. Unwilling to follow the ban from the city, Bologna has replaced the whipping with a sentence of forced enrolment in the fleet of the Pope"…………………….
*****
This page is based on the novel THE LAST ROW – L'ULTIMA VOGA, published by Meeting Benches in the e-book versions of English and Italian: http://meetingbenches.com/book-italian-version/
http://meetingbenches.com/e-book-english-version/