……………….. The fourteenth of Rue Descartes, all the shutters on the windows were open, but only those on the third floor had been left ajar. The Sun of the morning of the end of November didn't bother what the discretion of the penumbra guaranteed to laborious-sex ants they were going to complete their work shift. Marketa and Irina, didn't have to get rid of the bra and not even take off her panties, had accompanied bare their client of the night, giving him at the door of the luxury apartment that he had already paid. One last kiss on the lips and the appointment for that evening, had been of Marketa, absolutely not sorry to dinner at Fouquet's.
Pavel Pechov was rarely from her, but in those days was extremely nervous and had given up the usual caution that his job as a supplier of beers told him. His beers were, however, meat and that type of business was done with professionalism and confidentiality, but his wife had had the bad taste to be raped on the street by a stranger, and he wanted to forget that fact so unpleasant. Nothing better than to use his heavy phone prepaid cards, making and dial a number that retained the smell of a pleasant and relaxing company. He could choose between five apartments and fifteen girls, but only one knew his preferences, and intimacy had a concept that opened to all his sexual horizons, without exception.
Moving away from luxurious one hundred and twenty square meters, where no pleasure of the flesh was unknown, in the elevator Pavel had graciously greeted a lady, with one arm a scented poodle, thinking of the breasts and the pleasant relaxation Marketa that she had given him. That feeling of well-being had accompanied him to the door of the palace, where observed a day of Sun and two tourists busy with cameras and street maps of Paris.
Pechov, had mechanical placed his tie and had passed a hand to his hair that kept the smell of a night, without realizing that a photograph was taking the smile of one of the two tourists in front him, but he had acquired the digital zoom his beautiful first floor, a face in real time was already inserted in the database of the laborious ants that guarded on citizen security. A good breakfast, browse the facts of local news in Paris and buy a bunch of flowers for his wife. Yes, the brewer he would visit, even if it had become stuff of another man, the one that is talked about in the bar, what occupied the front page of the magazine is the focus of listening to the radio. ………………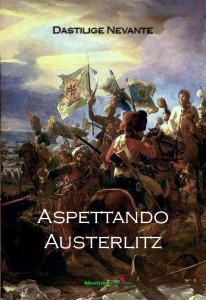 A novel draws this page by the misleading title, WAITING FOR AUSTERLITZ, published by Meeting Benches – http://meetingbenches.com/book-italian-version/ – (available eBook for now in the version of Italian language). Certainly, some of the stories lived by the protagonists of the book, are reported in the places of an ancient battle, but the narrative focus is the love. A diary, an old diary had been making yellow for the time, and written by a hussar of the first Empire French, preserve the certainty that stories of love apparently distant. They contain only not the memory of the historical events, but also the taste of the apples, and of the emotions, of two human beings that had tried to write theirs "we can do it."