Thank you for having accepted my invitation to travel. This weekend, I return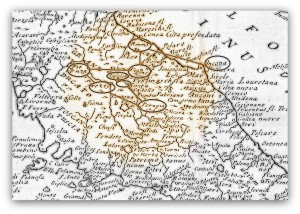 with great joy – with you – in places particularly dear to me, on a route that winds through the rolling hills of Central Italy, the birthplace of the Italian language and where it was created its flag flag. We will move at a speed of only 80 km / h, that is safe, so that our eyes do not miss anything that flows around us. If you're ready to go, you can lower your helmet visor, but you will need to place your hands on my hips, or back to the carrier of our "Vespa".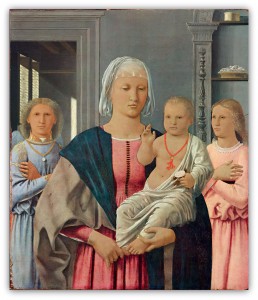 We are in Ancona, the first leg of our journey, and what we observe in the Museo Nazionale delle Marche, is a painting of the 1470/1485, it is called the Madonna of Senigallia, a small painting, oil on paper, recorded on board walnut. It was the Duke Federico da Montefeltro, who commissioned this painting, because it was supposed to be a wedding gift for his daughter Giovanna.
In an hour and a quarter, we have traveled the 107 km separating us from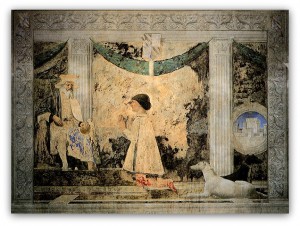 Rimini, a city known for its beach tourism, but today we're not going to dive in the Adriatic Sea. As you know, in this second stage in the lands of Peter, we headed over to the Malatesta Temple, and what we will do is simple: we will dive into the charm of a painting, what is Sigismondo Pandolfo Malatesta, in prayer, in front of St. Sigismund. As you see, this is a fresco, but I invite you to consider the fact that it is in the church of San Francesco, is the burial place for members of the Malatesta family, the lords of Rimini.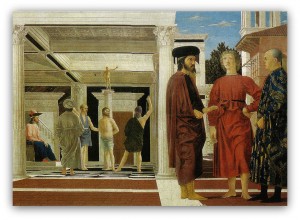 After 63 km and an hour's journey, we are in Urbino, a small town, but it has had a valuable Ducal Court, that of Federico da Montefeltro. Walking in the streets of this place, where I completed my undergraduate studies, I am curious as to move in a "time machine" to relive with you – but in a different way – what my eyes had seen. We are in the Doge's Palace, the one that houses the Galleria Nazionale delle Marche in Urbino, and in this room you can see a painting of the 1444/1470, what is the Flagellation of Christ. This particular painting is small, it has been realized in tempera on wood, but among the works of Piero della Francesca, it is the latest addition to our eyes. Indeed, it was only in 1838 that a German painter – a passionate painter Raphael – had visited the city of Urbino, Piero attributing the authorship of the work.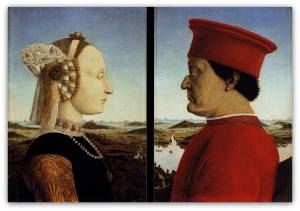 Observe the city of Florence from the top, is the only possible bias in our short trip. We are at Piazzale Michelangelo, and below us you can see a place untouched, what has kept not only its own Renaissance monuments, but also its atmosphere. 183 km and nearly three hours in the "Vespa", maybe they were a little heavy, but our reward is in the Uffizi Gallery. Yes, we expect the Double Portrait of the Dukes of Urbino, what Piero completed around 1465/1472. What is before our eyes, it is a small diptych, made in oil on wood, and the two people who stare are husband and wife, and Frederick Baptist, the Dukes of Urbino. You ask me why this is not preserved diptych in Urbino. Simple, just remember that the Montefeltro dynasty had died out, and their successors – the Della Rovere family – had double events, the ones that led to Florence in 1631, this diptych, as a gift of a dowry of Vittoria della Rovere, the who became the wife of Ferdinando II de' Medici.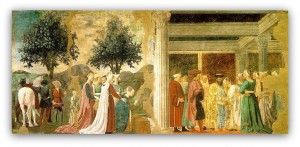 One time, only 78 km to arrive in Arezzo. You will not be disappointed by a visit which we will do in this ancient Etruscan city, not only because we will enter in a church, but in a magical place filled with atmospheres reminiscent frescoed walls. They tell the story of the True Cross, as they told in the 1452/1466. We will walk with our feet a little, but a lot with our eyes, because this cycle of frescoes in the church of San Francesco, it is composed of 15 parts, and each one deserves attention. In 1858, the English scholars were to spread, once again, what the weather was only retained in the folds of his memory.
This is also an ancient Etruscan city, and this city also contains a jewel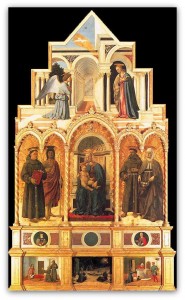 packaged by the hands of Piero della Francesca, but I am sure that the 100 km road have not tired your eyes. It is housed in the National Gallery of Umbria in Perugia. What we observe is a painting in 1460/1470 – it is called Altarpiece of Santo Antonio. This is a work in nine panels, it is done in mixed media on wood. While you observe it, I invite you to remember that the color is yellow gold, gold tooled.
After an hour over our "Vespa", 66 km of road took us to a special place, one that proves that not all small places are small chances to get excited. What we observe in the Chapel of Santa Maria di Momentana, is a fresco of 1455, and it is known by the name of Madonna del Parto, the pride of the small town of Monterchi, the place where she was born Piero's mother, the one that his son had wanted to be remembered, with a valuable work, which is located in a tiny country church.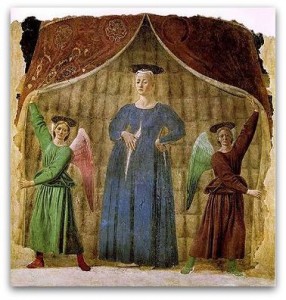 I see your smiling eyes, perhaps because this eighth leg of our tour was very short. Sure, only 17 km walk was not a great effort. We are in Sansepolcro, where previously we had been in another occasion, to admire a fresco by Piero della Francesca, the Resurrection of Christ. I thought I'd end our tour in the land of Peter, but not only because he was born in this city. Before our eyes, in the Museo Civico in this small town, we're snooping on many parts of a painting, called Polyptych of Mercy, built in 1455/1462, a work created on canvas, mixed technique.
Now, it's time to say goodbye. I raise the visor of my helmet and take off the gloves from my hands. Perhaps you can see in my eyes the reflection of the Madonna of Senigallia, the work that I prefer between all the wonders of Piero. I hope you have a new friend to remember, and I am sure that Piero that you did not know, now stay with you forever.