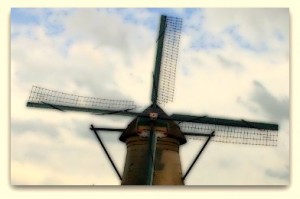 The windmill is built to harness the energy of the wind, and it creates mechanical energy, one that in the eighteenth century, around Kinderdijk, was used by its nineteen mills to handle the water, avoiding the recurrent floods. The origin of the windmills is old, but all of them had something similar: usually they grind flour and were placed on top of a hill, or in an area full of wind. They possessed an upper compartment equipped with wheels, while the ground floor was placed a rotor, but it was only two nations that faced the English Channel – England and the Netherlands – that their use was extended to the lifting of water.
After nearly three centuries, a visit to what had been a large industrial zone of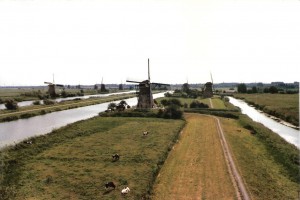 Holland does not offer visitors the smoke from the chimneys, and even the smell of oil, but only concert of his windmills. The five largest are windmills in Schiedam, and their blades churning up – along with the air – even the smell of gin they produce. To listen to the concert and they perceive their extraordinary beauty, you will need to go to Kinderdijk, a UNESCO World Heritage Site, where along with the noise produced by water management, you can listen to their old concert without musical score, surrounded by a typical Dutch landscape.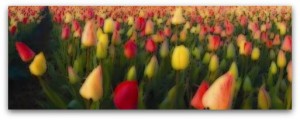 Enter inside one of them, and go upstairs: you do not you will hear the sound of grinding and pumping, but only the throbbing of their gear made ​​of wood. Perhaps, as has happened to me, you will realize that they pulsate like your heart, and will be the time where you can add your feelings to the concert. The mills are lined up in two rows, and you observe them from a small window, but since you came in the summer, you can only imagine the families skating on the ice in Kinderdijk, embraced by your intimate concert, and the rainbow of tulips lying on the grass.